IsraeliGamers - Gaming News & Fun Time & YouTubers
Hello, My Name Is Ohad Tal From Israel and I am the developer of IsraeliGamers
first of all i will tell you why you should download IsraeliGamers:
If you are a gamer or one who loves the field of computers, this application perfect for you, IsraelGamers application can be updated through the gaming news RSS retrieval from our website - PCGalaxy. Also you can catch different things with the Facebook group - IsraeliGamers.
One of the more interesting Features which more below, you can catch the world's largest YouTubers videos like PewDiePie and LevelCapGaming, option will be to watch the users gaming videos.
Not convincing enough? Download and you'll not be sorry. Invited to rate 5 stars as well.
Video Trailer app:
https://www.youtube.com/watch?v=umycNmQmH7A
How to download the app:
First of all to download the app please enter the App Store and search for the words "IsraeliGamers"
Direct Link Download (Android) -
http://goo.gl/dpMq9d
Or Just scan the Qr Code
Direct Link Download (iPhone + PC)
http://IsraeliGamers.mobapp.at
Details of the application pages:
YouTube Tab
- All video clips Most viewed of gamers around the world and in Israel! From PewDiePie up LevelCapGaming! And in addition many successful Israeli YouTubers as SpicyCrap! And more.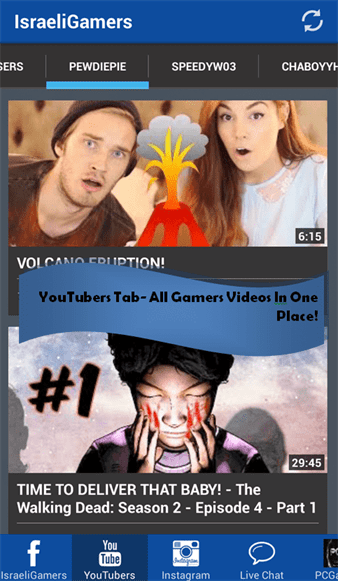 List YouTubers located App. Screenshot
IsraeliGamers Facebook Group
- a group of gamers on Facebook aims to help group members with computer problems, discussions, where you can ask for help or help others solve their problems.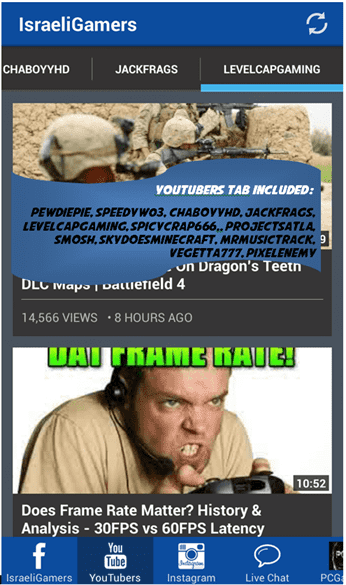 Facebook tab where you will find help and of course talk about anything related to gaming
Instagram Tab
- This tab gamers I focused most interesting users across Instagram, they update and post pictures every day, sometimes there are videos of games I have not left! In addition there is a cool design when you click the button has automatic switching of images (see photo).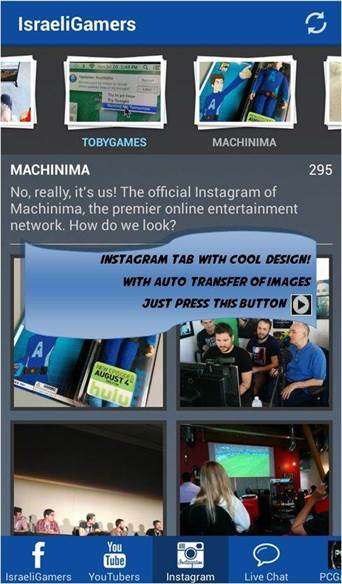 Tab Instagram cool pictures give a glimpse of the gaming world related
PCGalaxy
- updated with the hottest site around the galaxy! The site updates the gamers, multimedia lovers and all community computers between this software, applications, videos, posters, raffles and many more things.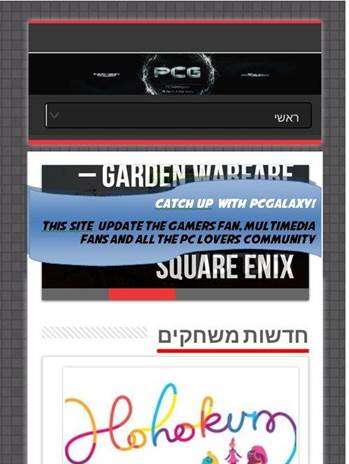 PCGalaxy tab is designed to link applications in the IG to our site,
Live Chat
- Live Chat specially created for you, you can talk about the hottest topics in the fields of gamers and even spend time with friends.
would like to tell you about another advantage of this application is available in most applications there are in all the key update takes users should download it, what's different I opened the application updates automatically updated without downloading and without doing anything, saving and convenient.
Not convincing enough? Download and you'll not be sorry. Invited to rate 5 stars as well.