Hello,
Today I present to you a brief tutorial or how to change the appearance of our TWRP like this: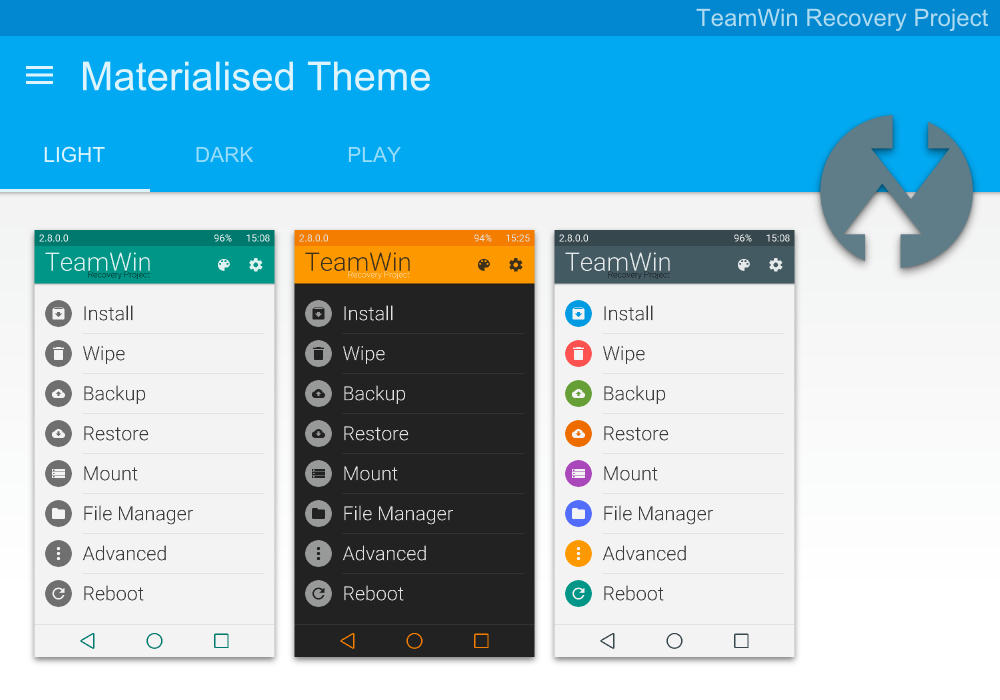 Now to work !!!!

What is needed:
TWRP of course
Moments willingness and patience
Method Of Installation
: Manually (Only For 2.8.6.0+)
Download Theme Of Your Choice and rename it to [ui.zip]
Place the ui.zip inside theme folder which is present under TWRP folder i.e., Internal Storage/TWRP/theme/ui.zip.
Note: If TWRP folder is not present, then create it. (now its no needed to put /data/media/0....))
Restart to recovery and be happy
Download:
ONLY 2.8.6.0
[Dark]
/
[Light]
/
[Play]
Known Errors:
(2.8.6.0)
You tell me.
Credits:
@
ChronoMonochrome
For Awesome TWRP
@
SethPDA
For Port Themes to 480x800
@
Modding.MyMind
@
z31s1g
For Everything which is connected with this themes
@
amarullz
For AROMA FileManager !
@
fluffi444
For Report (codina [p] ) @
teamw
in For TWRP
XDA:DevDB Information
[TWRP] [Theme] Materialised, Theme for the Samsung Galaxy Ace II
Contributors
Ave_Hornet
Source Code:
http://forum.xda-developers.com/gala...lised-t2933979
Version Information
Status:
Working on Theme [Dark Play] Materialised
Created
2015-03-28
Last Updated
2015-04-18
Last edited by Ave_Hornet; 18th April 2015 at
02:57 PM
. Reason: Delete method of installation for 2.8.1.0 if you want it pm me. Added new themes for 2.8.6.0