[Q] Google goggles sucking down battery?
---
Yesterday, my nexus 10 got down to 18% battery, so I plugged it in to the pogo plug and all of a sudden it dropped to 0%. I had noticed the area around the camera was unusually warm/hot most of the day when I was using it And just dismissed it as overerly active graphics. I mean really noticeably hot and the couple times I checked (using battery widget pro) the battery temp was approx. 98-99 degrees.
After plugging it in, I checked battery usage in android 4.4 settings. It shows that Google goggles had used 50% of the battery while my display only used 25%!
The thing is, I haven't used Google goggles in months! I may have tried it a couple times a few months ago, but just started the n10 with a fresh restart a day ago. The only photo app I recall using was the n10's photo gallery. Is it possible that gallery was loading it?
I checked running apps, and it had 3 goggles associated services running. I also checked in running/recent apps, it was not listed as a current app! But it did show up as running in the apps/settings menu? Not sure why they were running, but the app was using more battery than the n10's display was. So I uninstalled goggles and rebooted. So far, today, there is no heat coming off my tablet (temp is 84-85 for the past couple hours), battery use seems normal.
Is that normal for goggles to use that much battery? Some setting I have set to make goggles load and keep running services? Goggles should not use more battery than my display? (When I never started it?)
Thanks..
Ed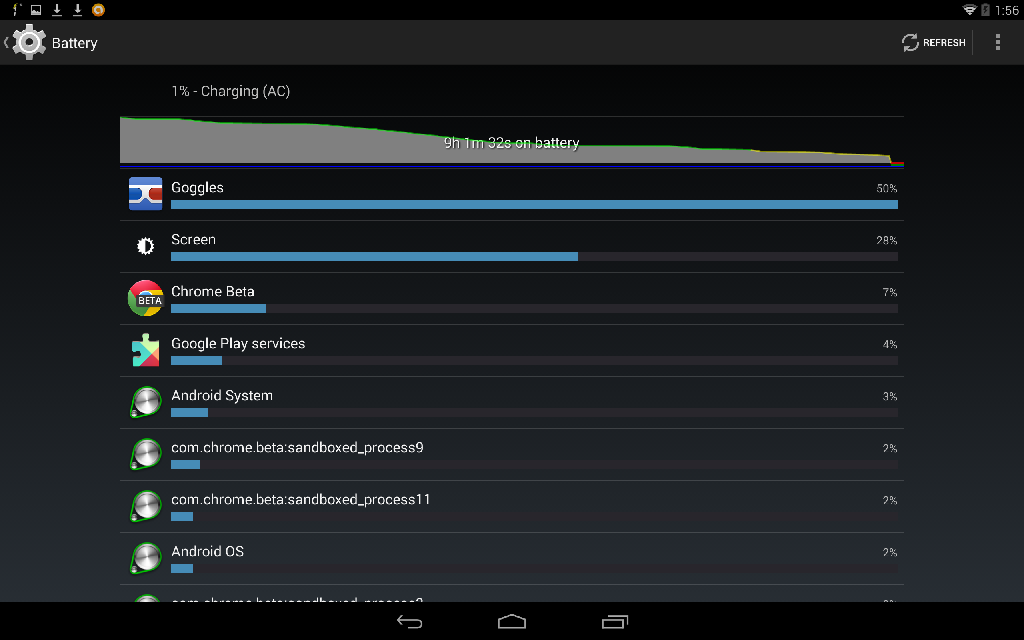 Ed B.
Current Android devices:

Samsung Tab 2 7.0
Samsung/Google Nexus 10
Kyocera c5155
Motorola MotoActv (watch)
Coby Kyros MID7015