Aperture Laboratories
1,083 posts
Join Date:
Joined:
Mar 2013
Donate to Me
More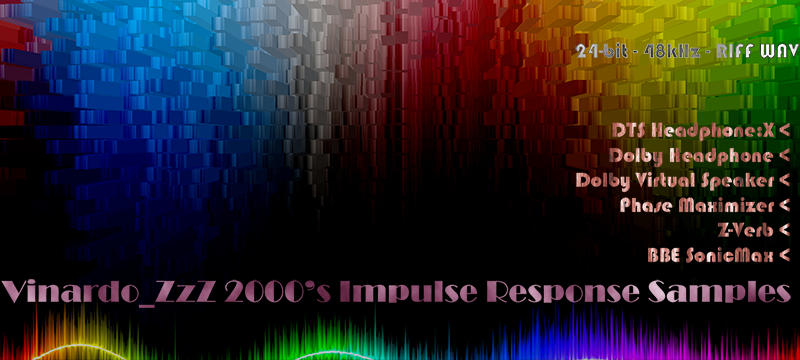 Quote:
IRS are only static effects. To activate the dynamics, get "eXtremeBeats" mod by Applicare Studios: Here
Hello, this is my second thread in XDA-Developers
All of my IRS mainly for V4A and V4W will show up here!
Quote:
If you want Dolby Headphone and Dolby Virtual Speaker 5.1 impulse responses, go here
Quote:
Features:[LIST][*]- Full 48kHz (truly not upsampled) - which means you get more signal samples and higher quality[*]- 24-bit audio depth (full dynamic range) - you'll get higher dynamic range and more points[*]- Low-to-zero delay (0ms ~ 5ms) - suitable for visually synced audio like games and movies[*]- Average normalization - meaning there's very low volume level variance[*]- Frequency range 20Hz ~ 20kHz - full range of sonic for maximum listening quality[*]- Ultra-short WAV length - resource-friendly for low-end devices[*]- Lossless audio - really lossless wave files[*]- 0 cents - EVERYTHING HERE IS COMPLETELY FREE!
Impulse response samples list (use your browser "find in page/search" function to search for specific IRS characteristics you want):
Original IRS (Line-In and stereo mix record):
Waves MaxxBass + Waves RBass (WARNING: Heavy bass - clipping may occur) - Updated (now 25ms)
Waves Maxx360 (100ms)
BBE SonicMax (Optimized) - Line-In
DTS Headphone:X (Test) - Complete 11 channels
Dolby Digital Plus (Enhancement Only) - Not a codec - Line-In
The King's Microphones - Not for audiophiles
OneKnob (Complete Set - Not Checked) - 70 IRS - 125ms (because of reverb)
Waves Vitamin Sonic Enhancer - NEW UPDATE: Extended Power (x2 and x3)
Dolby Virtualizer (Reprocessed Dolby HP & VS)
SRS Audio HD (SRS GEQ - Acoustic + SRS TruBass - 50% + SRS Dialog Clarity - 50%)
Creative Sound Blaster X-Fi MB3 (2 Custom Profiles)
Dolby Digital Plus (Re-processed. 50% more bass and highs. Extended surround power while keeping symmetry. Slightly higher mids/vocals)
SRS Audio (Extended TruBass + Def)
SBX Pro Studio (No SBX Surround and SBX Smart Volume)
Custom IRS:
Phase Maximizer (Stop using if you feel uncomfortable)
Z-Verb (50ms) - Headphone Virtualizer
Soundstage Expander (Virtual Surround Sound) - New: Phantom Room
Audio Boost (Powerful bass. Clear vocals. High clarity. Superior fidelity. Studio definition) - 2 IRS - LOUDER - Set gain to -3
Extreme Bass (Extremely deep bass - lower volume before using)
Phantom Room (Virtualphones Technology) - Soundstage Expander V3
Studio Sound (<<< Self Explanatory )
Theater Sound (<<< Self Explanatory )
Noise Extension (I don't like this one )
TruFidelity (Based on Audio Boost, but with less intense bass and reduced noise, and higher clarity )
Head360 (Wraps the sound around your head)
3D Headphone Sensation (2 IRS)
Headphone Enhancer (Bass, Fidelity, Surround)
Extended Power (A bit deeper bass, Higher clarity, Clearer phase)
Mega Subwoofer (BOOM BOOM BOOM)
Magic Bass (Not an ordinary bass boost )
Hi-Clarity (Recommended only for low-quality/compressed media)
Music Boom (Just a lil' bit enhancement... )
3NH4NC3D (Alias ENHANCED, Noise shaping, dialog enhancement, deepened bass, high fidelity, etc)
ClearLoud+ (ONLY FOR PHONE SPEAKERS - LOUDNESS WARNING)
Vibrant Exciter (Psychoacoustics Headphone FX)
Giga Subwoofer (Sounds funny. But almost a x2 version of Mega Subwoofer. LOL)
Clear Fidelizer (Extends clarity, highs, and deepness. Probably wider soundtsage. It might feel a bit louder )
FideliBASS (10% more powerful than Giga Subwoofer, and highs extended) - WARNING: This might be a 24dB bass boost ;p
SonicPhantom StudioMAX (reduced artifacts, clearer dialogs, higher... well... highs, and deeper and punchier bass) - 5 profiles
SonicPhantom X-Cinema HD (Universal. Suitable for games, movies, and music. More powerful and clear. Head-shaking bass tech) - 1 profile
FideliBASS V2 (Higher clarity version of FideliBASS. More resonance and thumps) - TURN VOLUME DOWN BEFORE SWITCHING TO THIS - AS IF YOU WERE WATHCING MOVIES, YOU WILL HEAR EXPLOSIONS JUST RIGHT IN FRONT OR BACK OF YOU... LOL
Acoustic Virtualization (For movies and games. Not recommended for music. Extensive bass resonance) - NOTE: 150ms
XHR SonicPhantom PowerFi FX (Crystal clear and bright audio. Progressive thumping closed bass. Voice clarification and vibrant fidelity. For multimedia and real gaming) - Reduce bass if too powerful or treble if too sharp
XHR SonicPhantom TheaterFX HD (Extremely crisp fidelity and superior clarity. Clearer closed bass - unexpected resonances reduced for comfortable listening. Crystalized and natural voice. Reduced artifacts and phase problems)
CrystalBASS HD (A bit more powerful than FideliBASS, vocals re-elevated a bit, and clarity should be about 15% higher by now. I think it can't get any better as the real clarity is masked by the super-heavy bass ) - BTW, LOWER THE VOLUME BEFORE USING, AGAIN
zLOUD (not to be confused with xLOUD. Extreme loudness! Use with speakers only! Low clarity. High mids extended)
XHR SonicPhantom StudioFX (Might be good for movies and games, but not music. Although you should try it to see if it works well with music ) 2 IRS (Stereo & Surround) - Crystality, quakeBASS, Dialog Master, X-Phase, ClearLoud, Virtual360
Audio DeMuffle (Improves clarity of most muffled tracks and overcompressed files)
[RENAMED+IMPROVED] XHR SonicPhantom LiveStudio (Advanced phase optimization. Extended bass response. Powerful fidelity and clarity) + Additional 360 surround mode
Mid-Range Booster (Boost frequencies ranging from about 80Hz ~ 800Hz)
Extreme Speaker (Compensates bass and mids of built-in phone speakers) - Lowered loudness by about 2dB to reduce clipping
[PREVIEW 1] Playback Enhancer (3 device profiles: Headphones, Speakers, Built-In [internal speakers])
XHR SonicPhantom PrestigePro (Ultra clear voice and vocals, more thumps while not giving muddy bass, extended fidelity without affecting voice sibilance)
XHR SonicPhantom PrestigePro quakeBASS Edition (CAN/MIGHT/MAY/SHALL/WILL DAMAGE YOUR EARS AND AUDIO MONITOR DEVICE) - Use with care
Elements Of Fidelity (NOT HARMONY LOL ) - 50% of audio boost. Extended: Deepness, Resonance, Power, Clarity, Brightness, Vibrancy
XHR OptiPhase (Affects phase quality)
XHR SonicPhantom XtremeStudio (Surround version also available. Just post in this thread if you want ) - Truth: PowerFi FX + PrestigePro + Some tweaks, 75% identical to Elements Of Fidelity, but this maybe/is weaker
Pure Clarity (<<<LOUDER>>>) - Turn volume down before trying
XHR SonicPhantom CrystalSound HD (Clarity crystalizer)
XHR SonicPhantom Z-Clarity (Voice frequency separation technique, aural exciter, dialog enhancement, bass kicker)
XHR SonicPhantom Home Theater (HDfy your audio. XHR Dialog Master, XHR Crystality, XHR ClearLoud, XHR quakeBASS, XHR NoiseQ, XHR X-Phase, XHR zClarify, XHR Virtual360 - Available by request, as without surround, less listening fatigue )
XHR SonicPhantom LiveFidelity HD (Vibrating resonance and bass. Added clarity and fidelity)
XHR SonicPhantom R-Boost (Lo contour enhancement. Bass re-processing. Clear drums [snare, hihats, kick, floor, toms, crash, ride, china, splash, etc ]. Height elevation 25%. Balanced vocals. Adds color to your media )
XHR SonicPhantom AuraLive HD (Acoustic boost mode. Lo countour. Bass enhancement. Warmer content. Aural exciter)
XHR SonicPhantom UltraClarity (Extreme 3kHz ~ 16kHz boost. A tiny bass boost)
XHR StudioMaster Pro (Lift up your audio. Live up your audio)
XHR StudioMaster HD (Heavier than Pro version. Don't know which is better )
Clear Surround (Might have too much echo)
Clear Surround HD (Extended clarity version. Less echo. Quality might be lower)
Elements Of Fidelity R2 (Bass is weaker than the origin. But higher clarity and with optimal localization. Added height elevation for more live performance)
Headset Boost (Recommended only on headset and headphones) - Bass and treble enhancement
ClarityFX HD (vocal and treble enhancement) - small amount of bass boost - 3D mode available
XHR SonicFidelity (Extreme lo-contour and thumping bass, extended highs and clarity) - REDUCE VOLUME BEFORE USING
XHR XtremeClarity+ (Deep bass response, Audio de-phatter, fully crystal clear vocals, crisp fidelity)
XHR CrystalSonic (POW bass effect, clear spoken words, extended dynamic range, high fidelity, crisp treble) - NOTE: Audio artifacts might occur
Headphone Clarity (Headphones audio clarity enhancement)
Virtual Surround IRS Pack (Contains 10 IRS with surround sound)
XHR qSurround (A bit echo-ish)
XHR SonicPhantom AuroraX (Extreme dialog clarity, deeper bass, powerful aural exciter, high-clarity surround sound)
XHR TruClarity FX (High voice clarity, extreme fidelity and closed bass, live crystal-clear surround)
XHR SonicPhantom PureBalance+ (5 presets: Professional Studio, Power Maximizer, Crystal Clear, Bass Kicker, Vibrant Fidelity)
XHR SonicPhantom StudioFidelity (Studio surround sound, extreme fidelity, high clarity and crystal clear audio)
XHR SonicPhantom LiveSense FX (Lively clear audio, voice clarity, isolated bass, vibrant fidelity)
XHR Headphone Fidelity (HD audio fidelity, clarity resurrection, extremely clear voice and vocals, extended image size, true to life 360 audio) - Stereo headphones only!
XHR SonicPhantom TruHeadphone (HDR audio, elevated 3D headphone surround, clear dialog, high clarity and vibrant fidelity) - Headphone effect
XHR StudioMaster FX (High clarity version of StudioMaster series. Extended fidelity. Less drowning sound)
MusicLive (Subwoofer resonance and bass, vibrant listening experience)
StudioSonic (audio definition enhancement)
XHR ProClarity (powerful dialog clarity enhancer)
XHR Acoustic+ (acoustic sound for headphones)
XHR PhenomSound (Clarity and fidelity restoration)
XHR DirectBass Xtreme (Extreme bass boost!!!) - 3 modes: headphones, speakers, built-in/internal speaker
XHR Elements Of Fidelity StudioMaster (Imperfect mix. Recipe: XHR StudioMaster FX (65%), Elements Of Fidelity R2 (35%))
XHR Master Audio (For music, games, movies, etc. Enhances audio fidelity and clarity. Extended bass response and range)
Passive Noise Control (Static one-channel phase inverter)
XHR WideFX (Stereo image enhancement. Both stereo speakers and headphones are supported)
MidBOOM (Deeper bass, boosted mid-range frequencies, clearer vocals)
Kalybathy+ (Modded Kalybathy - provided by @churapa. Normalized, lower gain. Ultra-low frequency bass enhanced. Mids boosted. Reduced highs)
XHR SonicBlaster (Recipe: Heaven High End, Xperia Z ClearBass, HTC Beats Audio, SBX Crystalizer)
ClearPlus HD (Clear vocals, better bass, detailed highs) - NOTE: Might sound louder
XHR ActiveBass (Psychoacoustic bass enhancement. For headphones and speakers - including internal speakers)
//.sound (XHR ActiveBass + MidBOOM + SBX Pro Studio + Additional tweaks) - requested by @//.dax
XtremeSonicNeutron (XHR SonicPhantom XtremeStudio + XHR SonicBlaster) - Requested by @2545
OMG (Musical Venom + Primal Beats) - Requested by @churapa
XHR SonicField FX (Virtual wideness enhancement)
Natural Sound (Brightens audio. Deep bass. Extended clarity)
Elements Of Fidelity (ZzZ Edition) - Less intense, higher clarity
XHR HiFi+ (High fidelity. Powerful bass. Clear highs)
Mobo (HTC Beats Audio + XHR SonicPhantom PrestigePro + Natural Sound) - Requested by @smeejaytee
Aperture Science Psychoacoustics Response Optimization (ASPRO) - v1.00 BETA - Aperture Science Psychoacoustics Laboratories
XHR TruSpeaker (Might sound bad depending on your phone's speakers. NOTE: THIS MAY DAMAGE YOUR SPEAKERS)
SonicHunter Speakers (Built-in phone speakers compensation. Better bass response and pristine clarity)
Clear Beats (40% Beats Audio from HTC One X and 60% ClearAudio+ from my brother's Xperia Z LOL) - Requested by @smeejaytee
Elements Of Fidelity ZzZ HD Edition (Restores lost audio fidelity. Pristine clarity. Distinct and clear vocals. Deep bass. Wider soundfield)
ClearWaves+ (40% Xperia Z ClearAudio+ + 30% Waves MaxxBass + 30% Waves LoAir) - requested by @Applicare Studios
ClearWaves+ (NEW RECIPE: 30% Xperia Z ClearAudio+ + 30% Waves MaxxBass + 30% Waves RBass + 10% Waves LoAir) - requested by @Applicare Studios
XHR TruRemaster (Track post-processing. High fidelity)
Kenty Beats (//.sound + Friends With Molly) - Requested by @//.dax
XHR ProMobile (Speaker enhancement technology) - Built-in speakers only!
XHR X-Pro (High-Fidelity headphone sonic enhancement)
XHR SonicZoom FX (High clarity and fidelity. Home theater surround sound. Deep thumping bass) - Headphones only
XHR AuroStudio (Headphone enhancement and surround virtualizer)
XHR TheaterFX Pro (Clear vocals and dialogs. Deep and vibrating bass. Crisp highs. Full mid-range quality. 360 degrees Hi-Fi surround) - Headphone effect
Kenty Beats V2 (Less bass. More mids)
SuperiorAudio+ (Contains 5 IRS. RECIPE) - Suggested by @Applicare Studios
Frequency Response Correction IRS (In Google Drive - Header: [FRC]):
Sennheiser HD 595
SoundMAGIC ES18 (fake lab test/DIY)
Need anything? Post
Quote:
Confused to choose? Here's some good choices and suggestions:
- For clarity: XHR SonicPhantom TruHeadphone
- For bass: XHR SonicPhantom PureBalance+ - Bass Kicker - check from my Google Drive for all files
- For enhanced power: XHR StudioMaster FX - check from my Google Drive for all files
- For virtualization: XHR qSurround - check from my Google Drive for all files
- For other: XHR LiveSense FX - check from my Google Drive for all files
NOTE ON IRS: If you get FCs on V4A because of selecting some IRS. It's probably because of the "%" in the file names of the IRS. You can rename them. Sorry for the problem
The IRS I'm currently using (for headphones): Elements Of Fidelity (ZzZ HD Edition)
All my IRS could be found in my
Google Drive IRS folder
Latest IRS will be as attachments too
Latest IRS reviews:
- XHR SonicPhantom StudioFidelity & XHR SonicPhantom PureBalance+:
View
- XHR StudioMaster series:
View
Fix some problems with IRS
Fix statusbar and notification drawer issues caused by the sound mod
Quote:
Complete Sound Excitement Experience - Aperture Science Digital Psychoacoustics Engine (ASDPE)
Prototype (Download + Bonus IRS): http://forum.xda-developers.com/show...4#post54729729
Optimized (Download): http://forum.xda-developers.com/show...postcount=1596

WARNING: PLEASE, MAKE A BACKUP BEFORE PROCEEDING TO FLASH THIS MOD. THERE'S NO UNINSTALLER FOR THE MOD AT THE MOMENT
NOTE: THIS MOD MIGHT NOT WORK ON SOME HTC SENSE AND SAMSUNG TOUCHWIZ ROMS. RESULTS MIGHT BE CRASHES, BOOTLOOP, OR STUCK AT "Starting apps..."

I'M NOT RESPONSIBLE FOR ANY DAMAGES ON YOUR MODDED DEVICE/PLAYBACK DEVICE/AUDITORY SYSTEM, ETC CAUSED BY THIS MOD. USE THE MOD AT YOUR OWN RISK!

ALL DOWNLOADS ARE AVAILABLE FROM THE ATTACHMENTS BELOW OR GOOGLE DRIVE LINKS! OLD DOWNLOADS ARE REMOVED. IF YOU WANT, PM ME OR POST HERE TO ACQUIRE THE LINKS


WARNING: DO NOT FLASH PRE-RELEASE VERSIONS IF YOU ARE UNSURE. ONLY FLASH RELEASE OR POST-RELEASE VERSIONS

STOCK SAMSUNG ROMS (TOUCHWIZ) USERS, DOWNLOAD THE ONE THAT SAYS "TW-Sec" IF YOU'RE STUCK AT "Starting apps..."


System Requirements:
- Android 4.1 JellyBean or above
- Rooted, standard binaries or BusyBox
- Custom recovery (CWM, TWRP, etc - with AROMA Installer support)
- "linker" internal binary (optional)
- Standard runtime libraries (C, M, gabi++, C++ standard functions, etc)
- No other sound mods installed (especially sound mods that share the same files)
- No previous versions installed (optional, but recommended)
- Full system backup (optional, but strongly recommended)
Quote:
Dolby Digital Plus Digital Signal Processor - Ported from Hisense AD689G / Smartfren Andromax i3

This is the latest version of Dolby Digital Plus processor (DDP codec excluded), ported by myself and modified to work across all Android 4.0+ ROMs, without the need of framework modifications. Just direct flashing


Features:
- Latest version from Dolby Laboratories
- Signed with testkey (No need to disable signature checking)
- Supports xHDPI displays (High-resolution images)
- Minimum SDK version: API Level 14 (Android 4.0)
- Target SDK version: API Level 17 (Android 4.3)
- Separate framework (custom permissions XML)
- Fixed language (Bahasa Indonesia)
- Set as audio effects control panel (Equalizer app)
- Separate tuning parameters (/system/dolby/ds1-default.xml)
- Optimized PNG images (less space usage)
- Many more

NOTE: I'm still testing it. It might not work on all devices. Low compatibility on KK ROMs

DOWNLOAD (V1 Pre-Release): Google Drive
Quote:
DTS Sound / SRS TruMedia - Ported from Hisense W858 / Smartfren Andromax i3S

Issues:
- Doesn't affect audio (probably libsrsprocessing.so is not loaded)
- Low-resolution images - Just a minor problem


DOWNLOAD: Not available yet. Still working on it
To do:
- Overloud TH2 IRS Pack (If you're wondering, yes I play electric guitar -_-) - Paused
- Custom DSP app (DSP Manager-based with some smali and resource edits) - Paused. Too lazy
- You can request IRS (and also name them by yourself)
Status:
- Preparing for exams (sorry
)
I've created a quick dirty program to rename WAV to IRS as I forgot to rename some of my IRS files. Download wav2irs_renamer.zip from attachment below (oops, I removed it. If you still want it, get it from my Drive IRS directory). Alternatively, you can create a ".nomedia" file in /sdcard/ViPER4Android/Kernel so media players will not scan that folder.
Quote:
Donations are greatly appreciated and used to motivate and support me to make make more IRS


Kindly donated by:
- ZeroInfinity
- GermanGuy
- churapa
The titles and names "Aperture Science", "Aperture Laboratories", "Aperture Science Psychoacoustics Laboratories", and the Aperture logo and icon, or anything related are owned by Valve Corporation. I'm not affliated with, funded, endorsed, nor sponsored by Valve Corporation. ANYTHING RELATED TO "Aperture Science" ARE FOR PRIVATE USES ONLY, NOT FOR COMMERCIAL PURPOSES.
More IRS to come!!! Feedbacks and critics are greatly appreciated!
Please press THANKS if you like these IRS. You just need to press it once. I spent my time on all of these.
Just one thanks, I gave you all of my IRS
Last edited by Vinardo_ZzZ 2000; 24th September 2014 at
12:57 PM
.