OP
Account Currently Disabled
Android forums
128 posts
Join Date:
Joined:
May 2014
More
XDA SANTHOSH
Share your Pc's internet on your mobile .... Via USB Cable
Reverse tethering Mod
Hi guys .... This is <<< xda santhosh >>>
Here to show you guys >>>>> How to share your PC's internet connection on ::: Samsung galaxy apollo :::
Things needed :
Rooted Device
Usb cable <<< Working properly >>>
Debugging mod enabled
PC with internet connection
The attached file
7zip $$$ for extracting the files $$$ from the attached
Device driver <<< Samsung galaxy apollo >>>
Lets move on further :
Connect the usb to the Phone
Download the attached file and Open the folder :
Follow the Steps below in the Picture :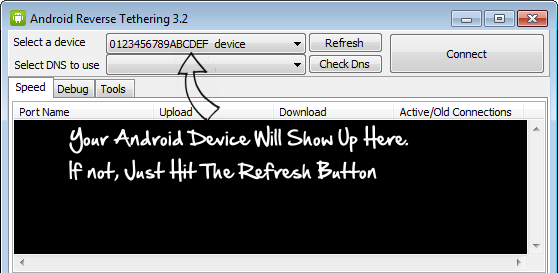 After your device is shown up :
Click on Connect
Allow superuser Request in your phone
It will start connecting the Internet :
Symptoms :
This is screenshot from my phone .... connected via usb Tethering >>>>>>
Feel the speedest internet on ur phone :
Supports all type of rooted android phone
Hit thanks if u feel u are helped :::
Last edited by xda Santhosh; 31st May 2014 at
05:01 AM
.