Dijon
44 posts
Join Date:
Joined:
Jun 2014
Donate to Me
More
Quote:
Originally Posted by
p_alex91
Hi,

We can't test any of the pro features and they are not really well described.
I think it would help buying the app if we can somehow test them in a limited way, or at least see the options menu, or have them described in detail somewhere !

Anyway, I have a question about HTTP get.
Is it purely conditional ? I would like to display the response in a popup, like NFC Retag httpget feature. Would there be any other command to show the result of a request ? (Launching the browser is too heavy, it takes more time to load and display the response) Nfc retag get feature matches my needs, but miss conditions that you support very nicely !!
Hi there,
Yes, it's a good suggestion, I will work on it.
Currently, HTTP GET allow to send a URL in background, but you can't show result into a screen.
But you can put a conditional block on a HTTP GET request.
You can see in the screenshot here :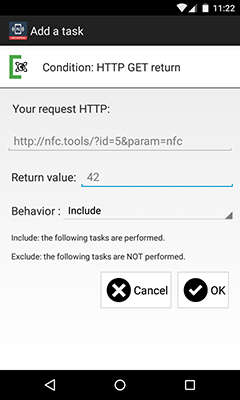 In the future, I would like to add variables management (eg: put a HTTP return into a var).
But I'm alone on this project and It's lot of work