Cali, Valle
349 posts
Join Date:
Joined:
Nov 2012
More
Note
This Rom is returned..!! :3
Grettings
Thread
Hi to everyone, I bring a release of KitKat for the Acer Iconia b1-a71 for the moment... Is based in Stock Rom *because port the libs to Mediatek is complicated*
So I hope you like this little closeness to KK 4.4, based in 4.1
You know that to have this Rom you must be root user
List
- Kitkat Aosp Nexus 5 UI
- Apps from System from Nexus 5
- KitKat Fonts
- Framework with 4.4.2 Apparence
- Stock GoogleHome *Only for test, the original launcher for this Rom is Epic Launcher*
Bugs
As it is based on Stock Rom I doubt he has any bug, report it but I do not even detect the first
Screenshots *from Acer Iconia B1-A71*
How Install
Tutorial friendly for noobs :3
Okay is a little tutorial of How to Install this Rom and some Rom for this Tab
1. Download the .zip Rom and pass from your Internal/Micro SD Memory
2. Download Root Explorer 3.1 and give permissions from Superuser
3. Search the Rom .zip with Root Explorer
4. Select the .zip and press in Menu --> Extract All
5. Go to Extraction, and open the KitKat Nexus 5 Rom folder
6. Now you start with any folder... My suggestion is make it in alphabetical order
7. Open any folder and select all and press in Copy
8. Go to Root Tab and open the folder system
9. Now, you Paste the files/folders here...
10. Select the files/folders recently copied and press in Menu --> Permissions and put the following:
Only for files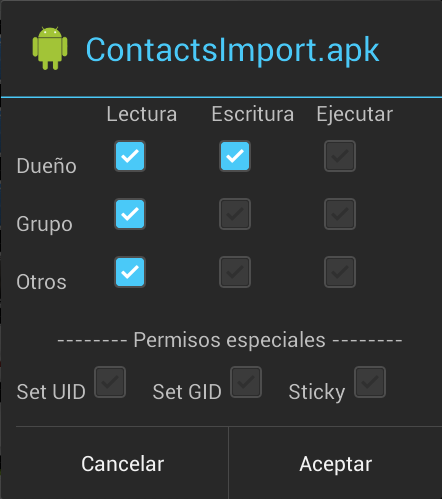 Only for folders and bin folder files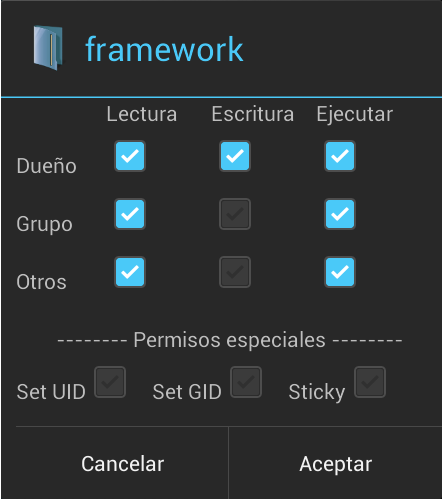 11. Select the files/folders recently copied again and Move your corresponding folder
.apk files *except framework-res* System --> App
no extension files System --> Bin
misc files *.xml mostly* System --> Etc or System --> Usr
.jar files *and framework-res.apk* System --> Framework
.so files *libraries files* System --> Lib or System --> Vendor --> Lib
.ttf files *font files* System --> Fonts
.zip files *Only Bootanimation* System --> Media
12. After to pass all, reboot the Tablet and Enjoy it
Guide for @
sebasrock156
*Corporight Inside LOL
*
Download
KitKat Rom :3
Epic Launcher :3
*Recommended*
Google Experience Launcher (GEL)/Google Now Launcher :3
*It generates lags on same Launcher UI*
Extra *Only if you're interested*
1. You have to download the
Xposed Installer
*thx to @
rovo89
*
2. Open Xposed Installer and press Install/Update, after, press reboot
How to make transparent the Status/Navigation Bar without know edit apps
Open Xposed Installer again, pass to Modules tab and select
GravityBox
*thx to @
C3C076
*
How to make the KK Toast in chase of the Framework edition don't work
Open Xposed Installer again, pass to Modules tab and select
KitKat Toast Backport
*thx to @
MohammadAG
*
Credits to @
sebasrock156
*me* and Google, for make this possible
Information
For more Roms, News or any thing more pass to
Acer Iconia b1-a71 Internacional Group
for help you
If you do want see my older Roms, press any the links to down.

Xperia i1 Honami/Z1 Rom
Xperia Z Tab Rom
Last edited by sebasrock156; 29th August 2014 at
05:40 AM
.