LG L9 P760 Softbrick - no way to flash etc.
---
I have very big problem with my LG L9. Firts, I unlocked bootloader and rooted phone with some kind of method, everything was working great, until I flashed PACman rom. Internal space was decreasing to the moment when it reached 612kb, so I wanted to flash another Rom. And from this moment I have problems.
First of all, I downloaded rom, for example PolishBlood from Original Android Development.
I entered Clockworkmod (6.0.3.1), wiped all data / factory reset, dalvik cache. Did everything like in tutorials. Then, clicked install rom from sd card and pick "choose zip from external sdcard", cause this option was working when I was installing PACman. And here I have problem:
E:Can't mount /external_sd/
. I read couple of tuts, and best, and I think only option was/ still is guide from this thread:
[GUIDE] [UNBRICK][ROOT] FLASH Any LG Factory ROM (kdz) WITH OFFLINE FIX
But here, I have problem too. flashing process stopping at 15%, and telling me that cable/cellphone is disconnected.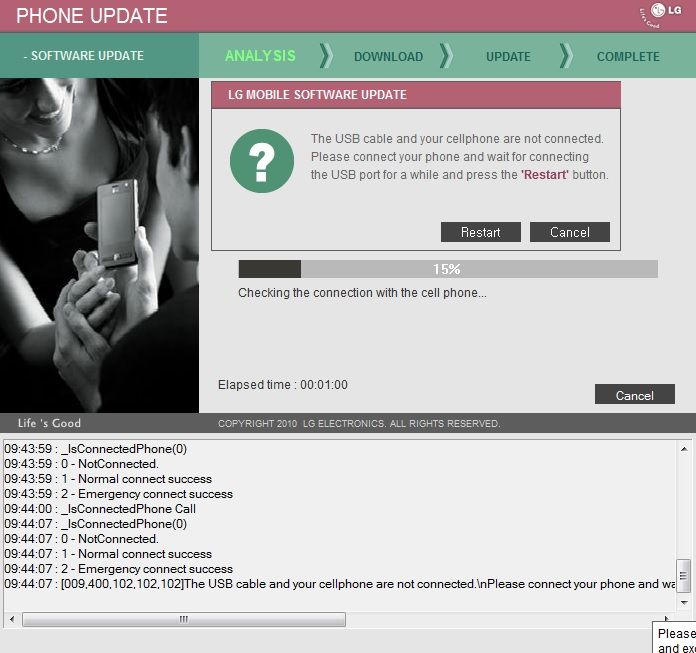 I think I have all drivers installed, I'm doing everything step by step like in tutorial, except enter in LG software mode, cause I don't have any rom.
So for now, I can only enter ClockworkMod and S/W Upgrade mode. Please help, cause for now I have Nokia 3120 ;/