OP
Recognized Developer / Retired Forum Moderator
Dallas, TX
5,168 posts
Join Date:
Joined:
Apr 2009
Donate to Me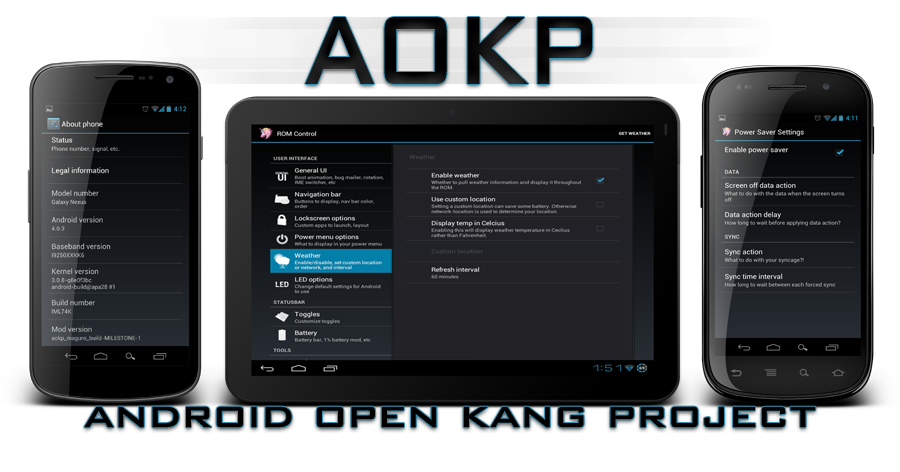 Newest change logs are available at the
AOKP site

WARNING: If you are on a leaked ICS kernel, DO NOT FLASH THIS. Flash a known safe kernel from the sticky in the development section, then flash this.
Make sure you're on the latest CWM
MAKE A NANDROID
wipe data/factory reset in recovery
flash ROM
flash Gapps
reboot
Current build40
here
gapps:
http://goo.im/gapps
Credits:
xplodwild
Entropy512
Cyanogenmod
Other people I'm sure I'm missing, PM me if you should be on the list.

We spend countless of hours doing this for next to nothing. Posts, views, and donations encourage me, and everyone else who helps out.
Donate to me
Donate to Romann
Donate to Whitehawkx
Donate to Jonathan Grigg
Donate to Zaphod-Beeble
Donate to ProTekk
Donate to CyanogenMod
Every donation is cherished and loved.
If you'd like to help contribute by writing code, feel free to stop by IRC and talk to us!
Check out the ROM source on
github
. Open source, in the spirit of community kangage.
Kernel source:
https://github.com/CyanogenMod/andro...msung_smdk4210
Note: Some changes are still on their way through gerrit, so the N7000 will not be buildable via source yet.
If you'd like to help with AOKP, please don't hesitate to contact me. I'd love to get as many developers in on this as possible!
Best way to help out or contact us is via IRC.
Last edited by sixstringsg; 25th June 2012 at
07:27 PM
.