[/center]
Rules for inquiring a subject matter concerning this project are:
1. Read the OP fully.
2. For bug reports, we need a log to assess the issue. Capture a log while replicating the issue.
3. Do not ask ETA's on updates; you will be ignored.
4. Use the "search this thread" feature to make sure your question wasn't already answered by using key words.
5. Only ask a question about
this
project. Any questions about another ROM or project will be disregarded.
6. You don't like our OctOS symbol.
Too bad
.
7. You want 100% untouched/unmodified AOSP. This isn't the ROM for you.
8. Team OctOs/Octo-Kat is open source. You can always build it yourself.
AOSP Android 4.4.2 KOT49H
OctOs Settings - These features are included and can be enabled at the user's preference
Navigation Bar (On-Screen Buttons)
Notification LED control
Status Bar control
Active Display
Application Side-Bar
Battery Bar
Quick-Tiles
Theme Engine
Power Menu Options
Apps Ops preserved
OmniSwitch
Custom Progress Bar
OctOS Settings (Hidden in Build Date give it a Tap)
Team-OctOS Settings and Layouts: http://youtu.be/62jwg9KLFBU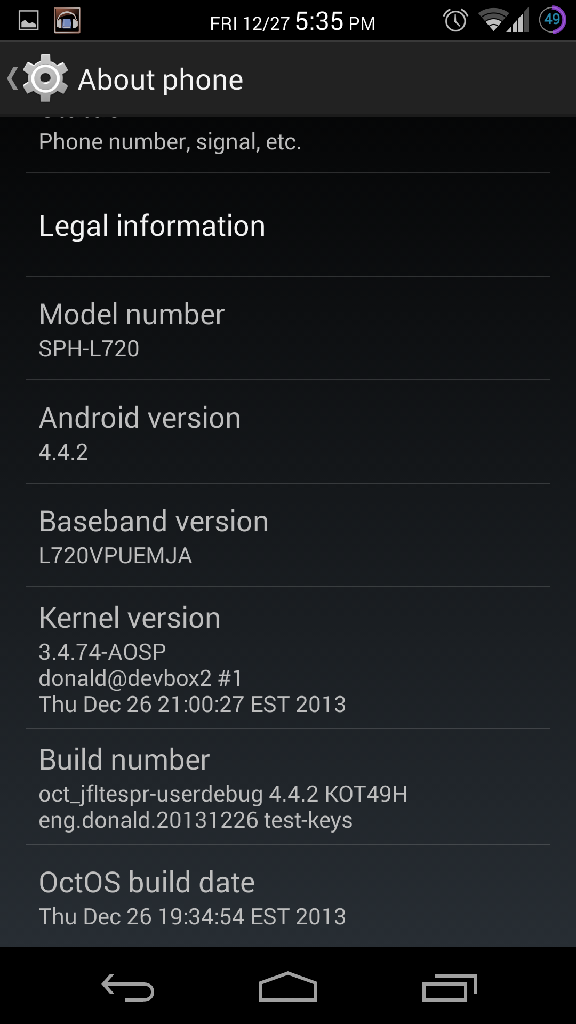 -Do Not Mirror our files without talking to us. We can do that ourselves should we desire to.-
Frequently Asked Questions
Q: Why isn't there XXXXXXX feature.
A: Shoot us a Suggestion if you want to see something added. While we are not going to promise to implement, we will always look into it
Q: But CM and all the others have..
A: ROM developers, including CM, build something they want to use. The ROM dev that includes something they won't run implies less than 100% effort to ensure it does work. As a team, we have similar goals and objectives. If XYZ ROM has a feature you want, and we don't (or don't want), feel free to use XYZ ROM, or build your own custom version of Octo-Kat
ADB Logcat tutorial here:
How to create a logcat log
Bugs:
Basic Instructions:
Download ROM .zip file
Download KitKat GApps - * See Note Below! *
Reboot to Recovery (Note: Use Three-Finger or adb reboot recovery - ROM Manager or similar software is NOT supported)
--- TWRP is the ONLY recovery Team OctOs uses - We do not support flashing on CWM but it can be used if TWRP can not flash ---
Flash ROM, GApps files
Clear Dalvik/Cache
Reboot
A Note about the Team OctOs GApps
We in Team OctOs believe in choices. We believe in leaving the fundamental decisions about your phone to you.
In that spirit, Team OctOs gives you options for your GApps experiences. While
any
ODEX'ed GApps package should work, we offer you the choice of using some of the same GApps packages that we use ourselves, and leave the choice up to you.
You can find our Team OctOs GApps packages
here
, and break down into the following types:
GPe - Google Experience

Regular GPe GApps
Dalvik-Enhanced GPe GApps

AOSP

AOSP GApps
Dalvik-Enhanced AOSP GApps
The Dalvik-Enhanced packages are
NOT
ART compatible. If you plan to run ART, don't use those.
We will only update the thread with
Stable
Releases, whenever possible. This means that the thread may be behind non-milestone releases. If you have an issue with compulsive flashing, or feel the need to live 'life on the edge of brick', we invite you to follow us on Facebook and/or Twitter. Any dailies that can be released, we will release there. Please note, we pull these releases after a day or two, so if the latest link posted there is empty, simply wait until the next one.

- Follow Team OctOs on Facebook
Contributors
Grommish
,
Dubbsy
,
hlxanthus
, treken, agat63, cjkacz, buckmarble, winner00, wizard0f0s, bthorne79
Sent from my SPH-L710 using Tapatalk
Last edited by bthorne79; 24th July 2014 at
03:39 AM
.