Based on OmniROM
(
Home - Omni
)
This is a ROM put together from source code and closed-source apps by myself, with scripting for AROMA by me, and contributions to init.d scripting by 3DSammy. It utilizes the stock AOSP Kernel provided via OmniROM.
Features:
-OmniROM! (Split View, Quick Settings flipping tiles, screen recording, GUI translucency)
-CM Calculator
-init.d preservation and support
-AROMA with settings preservation!
-Built with the Linaro 4.7 toolchain!
Tempest Extras:
-ViPER4Android preinstalled (just open it and install the A15/NEON drivers)
-Titanium Backup preinstalled
-SELinux Switcher preinstalled
-Choice of UDN or LMT, with a NavBar build.prop mod option
-Choice to preinstall SuperSU
-Choice of Launcher2 and Launcher3 (Launcher3 has a dependency on Google Search)
Screen Recording (as tested on Manta):
SCR_20131120_111710.mp4 - YouTube
SCR_20131120_111746.mp4 - YouTube
Planned Features:
-Additional over/underclocking options
If you have feature requests, put them in with the knowledge that I MAY NOT be able to implement them yet.
Downloads:
Manta Upload Folder
Latest Version: omni-4.4-20140301-manta-TEMPEST.zip
OLD BUILDS: Last Version: omni-4.4-20131121-manta-TEMPEST.zip
GApps Packages:
I personally endorse and recommend
Famigo's Gapps package
. All builds are installed and tested using the famigo_gapps-4.4.x-v6.3.zip, by me.
Other packages that are reported as working:
"Slim" SlimKat GApps Package
- Reported as working
ThunderKats GApps Package
- Reported as working well. MAY result in a missing Camera/Gallery
Installation:
If coming from another ROM, recommend a factory reset. The update script auto-wipes /system.
1) Wipe cache/dalvik
2) Install zip
3) Install GApps (4.4) package of choice, and anything else you want to install
4) Wipe cache/dalvik
5) If SuperSU install was declined, flash your superuser
Known Issues:
-Music Effects FC is under investigation. I have the cause pinned down but haven't been able to fix it yet
-Some GApps packages result in a missing camera
Works:
-Everything not mentioned above (Split View/Multi Window is temperamental, but it works)
DISCLAIMER: I AM NOT RESPONSIBLE IF YOUR DEVICE DIES, BREAKS, BRICKS, GLITCHES, EATS YOUR KITTENS, OR DEVOURS YOUR SOUL
Screenshots: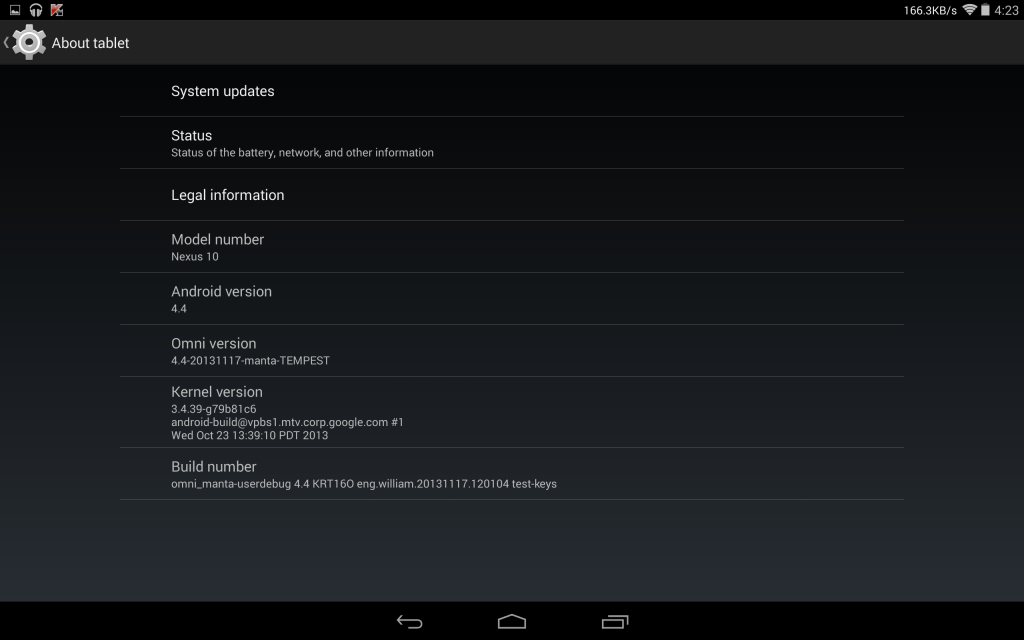 Credit goes to 3DSammy, Chainfire, CyanogenMod, Linaro, noname81, OmniROM, Pavel Sikun, Titanium Track, ViPER, and zhuhang
Sources:
OmniROM
Cyanogenmod Calculator
Add-on Packages:
-
SELinux Switcher
and
Ultimate Dynamic Navbar
both used with permission of Pavel Sikun
-init.d preservation script created by and used with permission of 3DSammy @
xda-developers
-
LMT Launcher
used with permission of noname81
-
Titanium Backup
created by Titanium Track
-
SuperSU
created by Chainfire
Last edited by dibblebill; 25th May 2014 at
04:10 PM
.