148 posts
Join Date:
Joined:
Jan 2013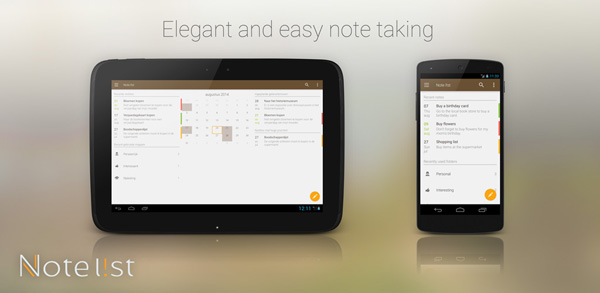 I Want to share my note's app with you all. It's called Note l!st and is available from the Play store:
https://play.google.com/store/apps/d....qnotelistfree
For anyone who does not have access to Google Play, the app is also available on AndroidPit:
http://www.androidpit.com/en/android...e-list-Notepad
If you like the app please leave a review on Google Play or an other app store.
Thank you all for the great support!
Store description
Quote:
Note l!st is your elegant notepad for Android devices.
With Note l!st's you can quickly write notes, todo items and write down all your ideas and reminders. Use the folder structure to keep all your notes organized. Looking for a simple yet powerful notepad for your Android device, Note l!st is it.

Manage all your notes with ease
• Large notepad for writing notes.
• Optimized for phones and tablets.
• Stores related information like note title and priority.
• Check completed notes.
• Sort notes and folders.
• Organize notes with customizable folders.
• Archive folders.
• Synchronize notes on multiple devices with Google Drive™

Quick access
• Offline access to your notes. (Cloud synchronization with Google Drive™ is optional)
• Add a shortcut to your home screen to quickly create new notes.
• Search notes within title or note content.
• Share notes with friends by e-mail, Google Plus™, Facebook™ or other apps on your device.

More features
• Add reminders to notes.
• Backup/Restore
• Full language support for: English, Dutch, German, Spanish.

Pro upgrade features
• Use Note l!st without ad banners.
• Note widgets.
• Text markup options for note content: Bold, Italic, Underlined, Font color, Highlight color.
• Recent notes folder.
• Calendar view
Any comments, suggestions are welcome.
Thanks!
BEFORE REPLYING ON THIS TOPIC WITH YOUR REQUEST PLEASE READ THE FOLLOWING ANSWERS TO MOST REQUESTED FEATURES
Quote:
- Translations
There are currently no plans of extra translations. However if you have offered to translate the app I might get back to you when more languages will be added.

- Access to notes by website and other OS devices like Windows
Due to the cost of hosting a service that would allow access to the notes by a website this feature is not planned in the up coming months.

- Adding photo's / drawings and handwriting
Note l!st is currently focusing on getting the best user experience for writing notes by keyboard.
There are many items that I want to implement before switching the focus on other kind of note taking options.
DEVELOPERS PLEASE READ
Quote:
If you are an Android developer and want to write a widget or other app that communicates with Note l!st, you can use the Note l!st content provider.
The content provider allows you to communicate (read only) with Note l!st and query data from the app.

The data specifications of the content provider can be found at this GitHub project:
Note l!st development library

You will need to add the Note l!st read data permission to your app manifest, this will be visible to the user.
The user also needs to allow third party apps to read data from Note l!st, this is a setting in the preference screen in Note l!st.

If you have published an app that uses the Note l!st content provider, you can join the beta test community on Google+ to test your code before updates get published. Contact me with a link to your app and I will send you an invitation.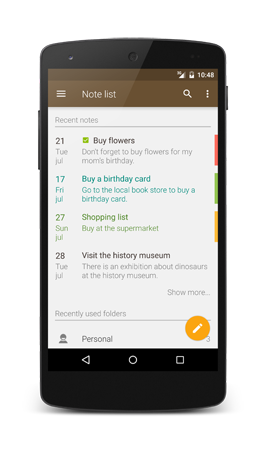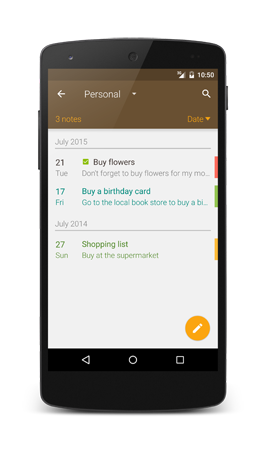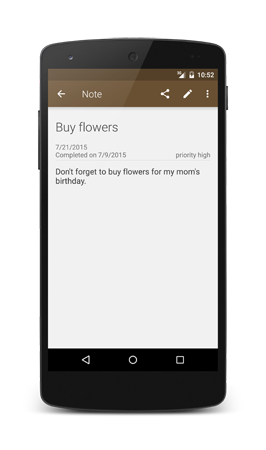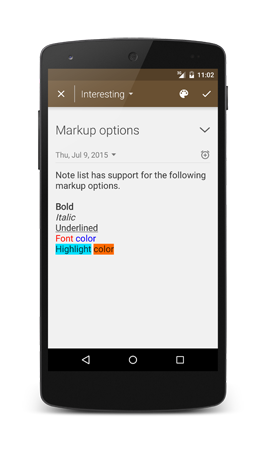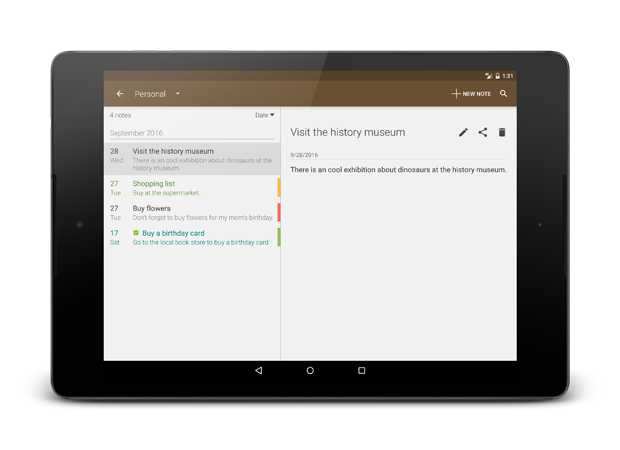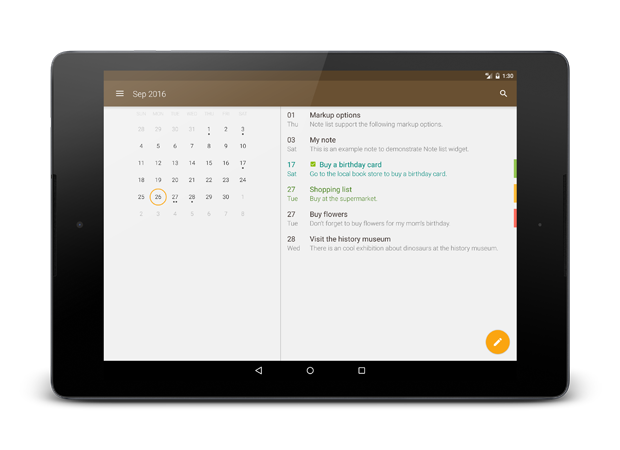 For a full explanation on what permissions the app requires and how they are used please read the Note l!st privacy policy:
http://notelist.cubeactive.com/privacy-policy/
Last edited by Cubeactive; 24th August 2014 at
06:07 PM
. Reason: Updated description