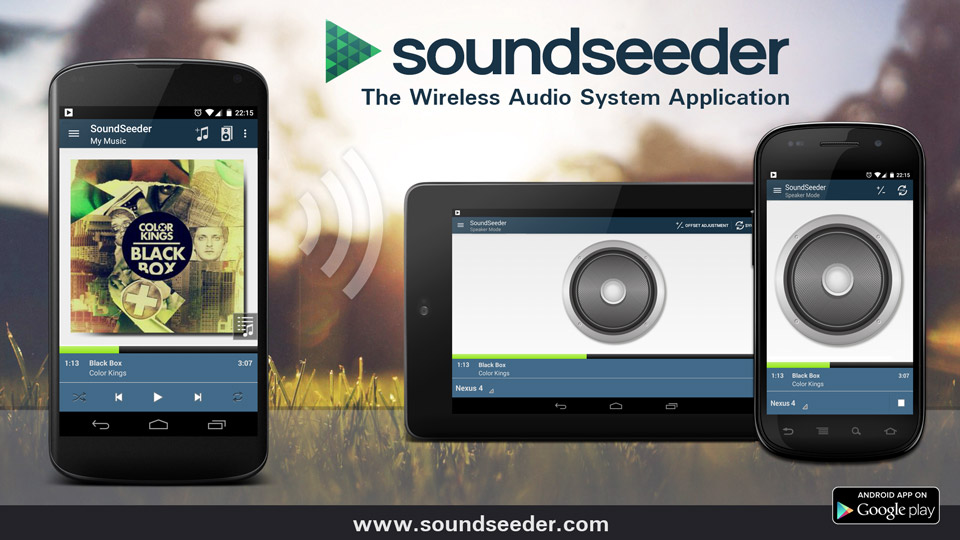 June,29th: SoundSeeder Player v1.5 released
v1.5.0
- Google Music radio station support
- Google Music automatic and shared playlist support
- Google TalkBack support
- Portuguese localization added
- Hungarian localization added (Thanks to ZityiSoft Team)
- Reduced storage usage
- Improved song loading time
- DLNA compatibility issues fixed (Logitech Media Server)
- Several bugs fixed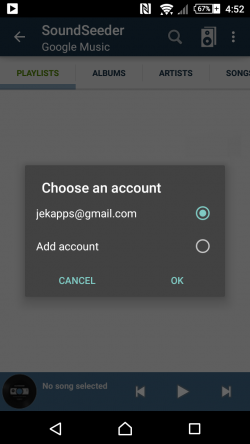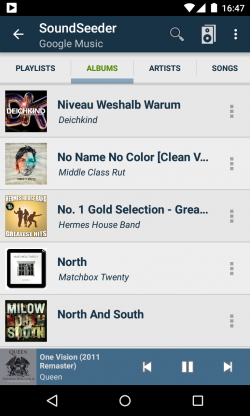 For more infos check this post:
http://forum.xda-developers.com/show...&postcount=332
SoundSeeder streams your music via WiFi to additional devices and turns them into wireless speakers.
All devices play your music in sync as one large audio system.
Install the new Windows / Linux Speaker Application to build a cheap (Sonos-like) wireless multiroom audio system using your PC or Raspberry Pis.
All devices have to be connected to the same Wi-Fi.
SoundSeeder supports Androids built in portable HotSpot and "WiFi direct" to connect devices wherever you want.
SoundSeeder Applications
The SoundSeeder Music Player is available for Phones and Tablets running Android 4.1 and higher. Use this app to select and play your music or to connect it as wireless speaker to another SoundSeeder Music Player.
If your device is running an older Android version (2.2 – 4.0), install the SoundSeeder Speaker Application. It is a "Speaker-Only" version of SoundSeeder, which can be connected to the SoundSeeder Music Player App.
SoundSeeder Speaker for JavaSE is a Speaker Application to connect your PC to the SoundSeeder Music Player Android App.
It supports Windows and Linux PCs and single-board computers like the Raspberry Pi.

How to use the Java App is posted below.
All applications are attached to this post. For more information visit
http://soundseeder.com/downloads
Overview
Full featured Music Player
UPnP/DLNA Browser included
5000+ Online Radio Stations included, powered by Dirble.com
Search for Stations by Country, Genre and Name
Google Play Music support
Media Library sorted by Album, Artist, Title, Folder, Genre, Playlists
Supported Media Forrmats: mp3, mp4, m4a, aac, 3gp, ogg, flac
YouTube support via semperVidLinks
Equalizer (supported devices only)
Sleep Timer
Autostart speaker on device boot
Streaming of custom online radio stations and audio files via HTTP
Create / delete playlists
Autodiscovery of SoundSeeder devices via Wi-Fi
Music streaming in sync without any delay
Connect up to 16 speakers to one player (depending on Wi-Fi and device performance)
Remote control playback and volume of all speakers
Supports Androids portable hotspot and WiFi direct to connect devices wherever you want
Homescreen and lockscreen widgets
English, german, french, spanish, italian, czech, polish, russian, slovak, indonesian, turkish, hungarian and portuguese localizations
...
Please Note
: The Google Music support has changed with update 1.4. You can now import you Google Music library and select your songs directly in SoundSeeder.
If you want to use Google Music the old way (Cast from Play Music to SoundSeeder) you need to install SoundSeeder v1.3.1 and the Google Music Player in version 5.5 or older. (This feature is not supported anymore!)
The free version of SoundSeeder can be used with two Speakers for up to 15 minutes, as often as you want to.
To connect SoundSeeder to further devices simultaneously or for longer than 15 minutes you can upgrade SoundSeeder via an InApp purchase.
Info: SoundSeeder requires a fast and solid WiFi connection.
To ensure the best performance check the FAQs:
http://soundseeder.com/help
SoundSeeder is also available on Google Play and the Amazon App Store


And please support me and rate SoundSeeder (if you like it
)
Reviews:
- SoundSeeder is featured on the XDA TV. Many thanks to TK!
http://www.xda-developers.com/androi...-developer-tv/
- SoundSeeder on the XDA Portal. Thank you Samantha!
http://www.xda-developers.com/androi...h-soundseeder/
Last edited by jekatt; 29th June 2015 at
06:44 PM
.