Dortmund
127 posts
Join Date:
Joined:
Nov 2007
More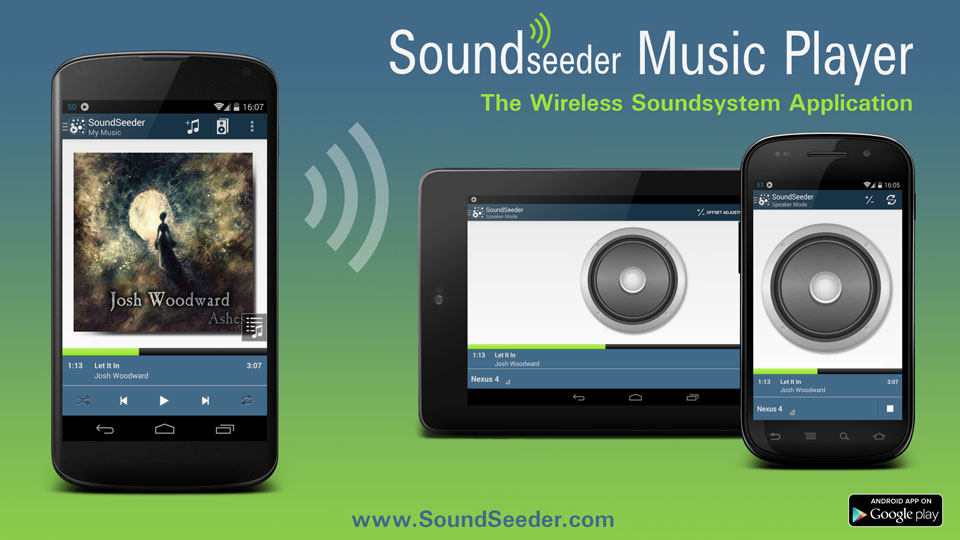 Update Mar. 27.
v0.9.2
- SoundSeeder Speaker Fix for Android 2.2 (Froyo)
v0.9.1
New in this version:
- The free version now contains ad banners and allows you to use two speakers for 15minutes before you need to reconnect
- Last.FM scrobbling via "Simple Last.FM Scrobbler" (
https://play.google.com/store/apps/d...om.adam.aslfms
)
- The Buffersize is about 50% larger, this should reduce playback issues
- Minor bugfixes
Update. Mar.27,
- Please Note: Google Music support might break with a future update of the Google Music Player:
http://forum.xda-developers.com/show...&postcount=217
Update. Sept.11,
- SoundSeeder is featured on the XDA TV. Many thanks to TK!
http://www.xda-developers.com/androi...-developer-tv/
Update. Aug.18,
- SoundSeeder is featured on the XDA Portal. Many thanks to Samantha!
http://www.xda-developers.com/androi...h-soundseeder/
SoundSeeder Music Player lets you listen to your music on your phone and connect additional Android devices as wireless speakers.
Actually SoundSeeder are two Apps:
SoundSeeder Music Player
(4.1+) and
SoundSeeder Speaker
(2.2+)
The idea behind SoundSeeder is similar to Samsungs
Group Play - Share Music™
of the Galaxy S4.
Play music on one Android device and connect any Android 2.2+ device as additional speaker. All devices play the music simultaneously and in sync as one large sound system.
All devices have to be connected to the same Wi-Fi or via WiFi direct.
You can also use Androids built in portable HotSpot of WiFi direct to connect your devices wherever you want.
Fully featured Music Player
Google Play Music support (using Chromecast API. Might break with a future update of Google Music!)
Media Library sorted by Album, Artist, Title, Folder, Genre, Playlists
Supported Media Forrmats: mp3, mp4, m4a, aac, 3gp, ogg, flac
Equalizer (supported devices only)
Streaming of Online Radio and Audio Files via HTTP
Create / delete Playlists
Autodiscovery of SoundSeeder Player / Speaker via Wi-Fi
Music streaming in sync without any delay. Create a full featured multiroom soundsystem!
Connect up to 16 Speakers to one Player (depending on Wi-Fi and device performance)
Remote control playback and volume of all speakers
Supports Androids portable Hotspot and WiFi direct to connect devices wherever you want
Homescreen and lockscreen widgets
English, German, French, Spanish, Italian, Czech, Polish, Russian, Slovak and Indonesian localisations
...
In the free demo mode you can connect two Speakers for up to 15 minutes, as often as you want to.
To connect SoundSeeder to further devices simultaneously or for longer than 15 minutes you can upgrade SoundSeeder via an InApp purchase.
To activate the Google Play Music support, go to Settings and unlock the new feature. Then you can switch to Google Music Mode by selecting the new main menu.
Known issues:
1) Some Android devices (like Nexus 4) have trouble with their wi-fi connection when the device enters the suspend mode:
https://code.google.com/p/android/is...etail?id=42272
If your connection is lost, when your device suspends, try the following options:
- Go to settings and set option "Stay awake" to avoid standby mode
- In your Wi-Fi settings set "Keep Wi-Fi on during sleep" to "Always"
- In your Wi-Fi settings deactivate "Wi-Fi optimization"
- Connect your device to the power adapter while using SoundSeeder to prevent standby mode
2) The automatic discovery of SoundSeeder Speakers / Players does not work on some devices, while they are suspended:
- Activate the screen to wake up the device and restart the device search.
3) The playback of SoundSeeder is asynchronous or lacking:
- Check the Wi-Fi signal strength and traffic load. A dedicated portable HotSpot or WiFi direct might result in a better performance.
- Pause and restart the playback of the SoundSeeder Music Player to sync the playback
4) Playback via Bluetooth Speakers is not in sync:
Bluetooth speakers add a delay of 50ms-200ms to your music. This delay can vary, each time you start the playback. Therefore a synchronized playback via bluetooth speakers is not granted!
SoundSeeder on Google Play
And please rate us on Google Play. (if you like SoundSeeder
)
Last edited by jekatt; 29th September 2014 at
10:11 PM
. Reason: v0.9.2 released