[Desktop][Java][Dev-Tool] VersionSys - A Simple Version Control System!
---
Hey there,
since I'm working on a few projects at a time, it's really hard to get the versions going, come to think of all the numbers and strings I have to remember - Let alone the things I have to write down!
So, today (by today, I mean in the last hour or so), I created a very small, yet simple application, that does that exact thing for you.
It creates version files, containing:
Program details
→ Program name
→ Program version
→ Program Stage
→ Used programming language
Versioning
→ Long version
→ Short Version
→ Version hash
Why is this useful?
Well, as mentioned above, it can be a pain in the <enter location here>, to remember all those numbers, letters and what not.
VersionSys does all the creating and writing for you, and to be honest, the files are very neat (neat as in tidy), too!
The files created by VersionSys can be implemented into a program to detect current versions, or be put on servers/dropboxes, to detect updates, etc.
Also, the version hashes created by VersionSys are pretty unique (unless you type the same thing in, over and over again...), so you can even detect spoofs!


Downloads
The project (and source) are downloaded as one over at SourceForge, and in the downloaded archive, there are two further archives, one being the source, and the other being the program itself - It is distributed in JAR-form.
SourceForge
Screenshot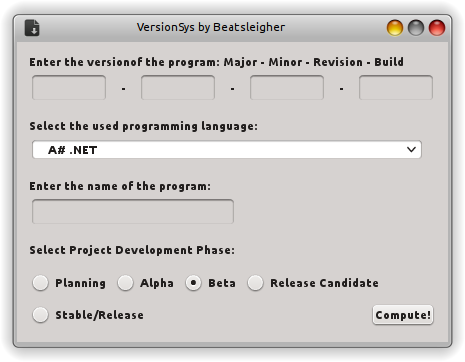 If you have an ideas, requests or similar, feel free to tell me!
For now, enjoy the program and happy versioni... uh... I mean coding!
Proud Leader of
!
My popular projects
on GitHub
Universal Android Toolkit and JDroidLib are now in BETA!
My work (other) work:
"Nothing is infinite, except human stupidity." - Albert Einstein.
"You shouldn't trust everything you see on the internet." - Abraham Lincoln.