La Mirada CA
55 posts
Join Date:
Joined:
Jun 2009
More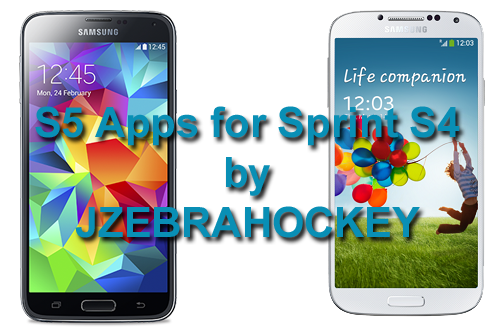 Here are downloads for some of the S5 apps that work on our S4. These are all apps that I use myself including the S5 Touchwiz, Notification panel, mms and more. For the apks in the system... folders please backup your original files and copy and paste the files. Make sure to set the proper permissions and then reboot. I would copy and paste them all from the system folder including app, priv_app and lib then reboot. The other apks install like normal apps. I am not responsible if your brick your phone. Always make a nandroid backup first. For me most of these worked on oxed stock rooted phone and all work on my phone running Sacs 4.4.2 v6. I did not port these apps over and I take no credit for most of them. I am just sharing here so people with the Sprint S4 can have them as well. Good luck and enjoy.
S5 Apps in zip:
S4 Settings with Added features
If you want the stock S4 settings with the added download booster and App opps use this file. I decompliled the apk added two lines of code and compiled and signed the apk. It works on my s4 with no problems.
http://www.mediafire.com/download/mr...ecSettings.apk
For Sounds and wallpapers use this thread
http://forum.xda-developers.com/show....php?t=2692969
To flash the s5 icons use this thread.
http://forum.xda-developers.com/show....php?t=2682162
For updated video player with option to have transparent bar use this.
Thanks to @
$ideWinder
http://forum.xda-developers.com/show...postcount=2271
S5 Voice Note App
-- Thanks to
citymen34
https://mega.co.nz/#!zwh0hSxQ!Pcbaec...qRLnq9rl3JnWm8
Make sure to rename the old files first to .bak then copy and paste the system/app and system/framework file into the right folders and set proper permissions. rw-r--r--. Then reboot and enjoy the new app.
Update
S5 Settings with System Update
-- Thanks to
sac23
Download
. Rename old SecSettings.apk in system/priv-app to SecSettings.apk.bak and paste S5 Settings and change permissions to rw-r--r--. Reboot and enjoy.
S5 Contacts and Dialer with working Call Pop-up from S5
-- Thanks to
sac23
Click here to download.
Rename SecContacts and SecPhone to .bak and then boot into recovery and make a backup and then flash the zip. Let me know if it works.
↓↓↓ For more updates click the button ↓↓↓
If this thread was helpful please press the Thanks button.
Last edited by jzebrahockey; 4th August 2014 at
06:51 PM
. Reason: Added S5 Settings