Jerusalem
More
Please beware that this is a two part mod, you need the application
and
the framework files.
Introduction:
Quote:
Welcome! If you ever had a note 2, you may know what this is all about. If not, I'll gladly explain.
Simplistic Framework is a modding project that aims to give the user a better experience, mainly through providing customizations to match each user's preferences.

If you're interested in the history of the framework, it started with the S2 with creating a ROM which had a few customization options.
It continued growing until customizations were added to a separate app, which was inspired by AOKP's ROM Control.
I bought the Note 2, and the first project was MultiWindowCompleteControl, which gave the user complete control of the applications in the MultiWindow Bar. Then I decided to build a framework rather than a ROM, and released the framework after about 3 months.

The Note 2 version was a big hit, and was very successful, and I thank everybody that was a part of the success.
I got the S4 in July this year, and decided to rewrite the framework using my improved coding skills. A test version was released for the S4, but the project was halted, and I sold the S4.

Come the Note 3, I decided to improve the framework even further, and rewrote about 60% of the implementations. To be honest, I'm very pleased with what I achieved with the Note 3 version, and I hope you will be as well.
Is this free?
Quote:
Well, No. While there are some parts of the framework which are free, most of the options are only available to the donation/paid version.
Features:
Quote:
Note: Look at the 2nd post for a more detailed features list, as this is just a general idea of what's included

Multitasking Complete Control, the successor of MWC from the Note 2 days. This app gives you control over the MultiWindow Bar apps as well as the Pen Window Applications. [Free]
Phone and Messaging Apps Customizations
General UI Customizations
Hardware buttons customizations for long press actions, and the addition of second-stage long press for each button!
Lockscreen, PowerMenu and Hardware Buttons Customizations
My Own 29 Toggles which support many customizations.
Clock and Other Statusbar Customizations
Battery Customizations, and even the ability to download batteries made by other users.
And that's not all, there are even more options.
Some Screenshots - Although they do not tell the whole story: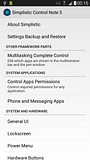 How to get the full application:
Downloads:
F.A.Q:
Quote:
Q: Can I add this mod to my ROM? (For devs)
A: Yes, but you can only add the framework and the free apps.
Many, Many Thanks To:
Quote:
AOKP's Developers
Abodi Alsugair for helping create odexed MJ7 files
My family for their support
aureljared for EVIL
YOU, for taking the time to read this
Last edited by LegendK95; 30th August 2014 at
07:23 PM
.