Milwaukee, WI
2,977 posts
Join Date:
Joined:
Dec 2010
Donate to Me
More
Welcome to the home of
Digitalhigh GPE - The ORIGINAL GPE for HTC M8
(often imitated, never duplicated!)
PLEASE NOTE: IF YOU'RE HERE TO POST A QUESTION OR ISSUE REGARDING THE ROM, PLEASE READ THE OP AND SECOND POST ENTIRELY.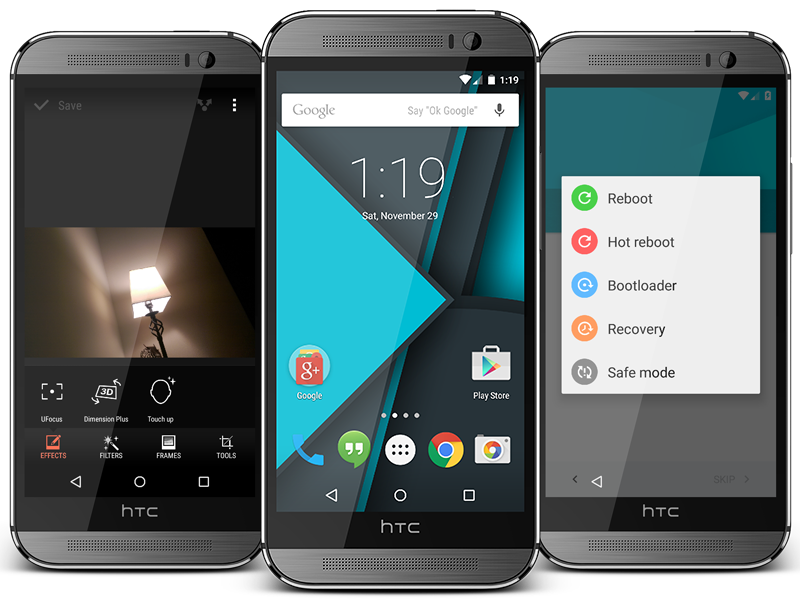 Hi! I'm Digitalhigh, and welcome to my thread.
If this is your first time visiting, please be sure to read this and post #2 THOROUGHLY, as I have tried to address many common issues and questions in them. If you ask a question that is addressed here, you will most certainly get a facepalm meme aimed directly at you.
So, are you sick or running Sense yet?
I was. I mean, it's not that Sense is as bad as it was back in the day, but I'm still just not ready to embrace it with open arms.
So, I wanted to help make GPE for our device...and I was successful in that endeavor.
First and foremost, props to Holyangel for his amazing work on the Skydragon ROM this is based on...and again to Holyangel for being the man at the front of the charge to bring you v5 Android. Mad props to Captain_Throwback for his help with the MultiROM stuff, as well as helping with the installer script. Thanks to aj2112, blestsol, polaric, pstrang, and toknitup420 for help testing stuff and getting it nice and smoove before we scooped HTC. And thanks to everybody else out there for testing, reporting, helping in the threads, and your kind and generous donations. I greatly appreciate all of you...this wouldn't be nearly as much fun without the community.
Also, thanks to the following devs, who's work is either included with this ROM, or whom I've studied to learn new tricks:
Amarullz - for Aroma
Chainfire - for SuperSU
Lyapota - for the APM mod and teaching us how to decompile OAT.
Zhuhang - for Viper4Android Audio Mods
ZeroInfinity - for ProjectEra Audio Mods
Jakeday/Okibi - for SQL injection method to fix Screen Casting
BSDgeek_Jake - For Mother of All Adblocking Scripts
So, it is without further ado...
What it is:
A mostly vanilla port of the 5.0 Google Play Edition ROM for the HTC M8 with minimal modification and tweaks...
Stock Features:
Android Version: 5.0.1 release-keys
Multicarrier Support - Tested and confirmed working on Sprint and VZW - GSM base also included.
Built from 100% Stock/OTA base
HTC Duo Camera support
HTC Dot View Case support, HTC Weather included
Motion Launch Gesture support
Working IR Blaster
Additional Features:
Latest busybox and SuperSU binaries
ADB Debugging enabled by default
Init.d scripts on boot to optimize system performance
Cast to Screen enabled
HTC TV App (IR Blaster)
Optional Features:
Sense Camera with working Gallery and duo effects!
Optional Google Messenger App
Greenify Battery monitor
Chronus Clock Widget
Active Display Addon
GSAM Battery stats
ROM Toolbox
Dropbox
Viper4Android Audio Mod
ProjectEra Sound Mod
Select from FOUR different kernels
Includes carrier-agnostic 5.0.1 Firmware with (mostly) automated installation
Made "stock" gapps Uninstallable:
Docs
Sheets
Slides
Earth
Keep
Maps
NewsStand
PlayGames
Plus
Streets
Videos
Youtube
(Hangouts and Chrome...You're next!)
MORE!
Aroma Installer:

Carrier Selection - One ROM to rule them ALL!
Wipe options - Clean flash, dirty flash, or "update only".
Material Themed - Changes color to match your carrier.
Extra app Options
Selectable, configurable sound mod options
What works:
ROM should now be 100% working.
How to Install:
A. Update your device to your carrier's 4.4.4 Firmware BEFORE flashing anything here. Google it.
1. Download.
2. Put on SDCard
3. Launch Installer (i.e - OPEN ROM .ZIP WITH YOUR RECOVERY)
4. Select full wipe for initial flash, dirty if you're brave. (Mileage May vary)
5. Select your carrier.
6. Select whether to extract firmware to /sdcard
7. Pick apps.
8. Flash.
9. Choose whether to reboot. If you chose the firmware, you will be rebooted to bootloader.
10. ????
11. PROFIT!!!
Read the FW Notes below:
What is this firmware?
It is a carrier-agnostic collection of the lollipop firmware files. By carrier-agnostic, I mean it does NOT contain any radios. I have also excluded the hboot file, boot image, and touchscreen stuff, as it was causing issues with Sprint devices and MultiROM.
Do I need it?
Maybe. Most people have luck without it, some need it for Wifi to work properly.
Will it hurt my phone or affect my ability to run older ROMS?
So far, no. Everybody that has flashed it has reported no adverse issues whatsoever.
How do I install it?
First, make sure you have installed your carrier's latest 4.4.4 firmware. This is very important.
If you have a SDCard, just put it in the root of SDcard, reboot to bootloader, and select HBoot. The phone will automagically do the rest.
If you do not have a SDCard, you need to utilize fastboot to flash this. There are numerous guides for this online.
OLDER/EXPERIMENTAL BUILDS:
https://www.androidfilehost.com/?a=s...les&flid=16298
CURRENT/STABLE ROM:
https://www.androidfilehost.com/?fid=95897840722647462
MD5: 2f3a44acea15ffb2cfa54c0370487fa8
FIRMWARE:
https://www.androidfilehost.com/?fid=95832962473400175
MD5: 8193aa1aadb35060f97fdfbec1412609
CHANGELOG:
Code:
01.21.15
Fixed "Hey, you said the Duo FX worked but they don't!" - Re-added PhotoEdit apk - needed by gallery.

01.20.15
Potential memory leak fix included from LolliSense
Sense Cam/Gallery now 95% functional.  Only thing not working is Zoes.
Updated to SuperSU 2.45 Stable
Updated Youtube, GMS core to latest versions.
Added option for Gcam to save to /SDCard

01.14.15
Updated HTC Gallery to stock lollipop APK. (Note, duo fx are missing atm...working on it)
Updated HTC Camera to stock lollipop APK. (Note, zoes not working...working on it)
Updated to HTC Framework from stock lollipop. Not sure if it matters, but we've got it.
Updated to supersu v 4.42 beta. 
Updated google search box to latest.
Updated hangouts to latest.
Added quick pulldown as an option in installer (pull down from right corner to get to QS immediately)
Fixed Google Play Music not installing on selection.

12.18.14
Updated to modpack 008, adds "Disable safe volume" and "battery percentage beside battery indicator." options
Updated SuperSU to 2.41
Fixed gapp uninstallation issue
Made gapps installable on a per-app basis
Mod installer smartened up - specifically checks for chosen backkey functionality and doesn't give up till it gets it

Updated a bunch of apps:
HTC TV
Dotview
Maps
Docs (again)
Books
Google Videos
Google Camera
Calendar
Cloud Print

12.17.14
dated SuperSU to latest version, fixed installation issues.
Fixed numerous issues with installer script (Thanks @Captain_Throwback)
Updated the following Gapps:
Drive
Docs
Sheets
Slides
Gmail
TTS
Hangouts
Keyboard
Music
GMS Core
Play Store
Wallet

Full incorporation of Lyapota's Modpack v007, with the following new features:

Center Clock
32, 34, 36 dpi NavBar Mod
Sweep2Sleep
Knock2Sleep
Enable/disable battery perecentage
Enable/disable back key to kill app
Enable/disable persistent navbar menu
Enable/disable search widget in recents screen
Clear all recent items

12.11.14
Updated HTC Gallery to new working version
Fixed logic in installer for selecting custom status bar
Moved carrier framework install earlier in installer, should fix statusbar issues
Updated HTC Service Framework, Youtube, Gmail to latest versions
Fixed Google+ Issues - Was missing libs
Added HTC Weather APK - WIP (Does not get location ATM, added for testing)

12.09.14
Updated Maps, Play Games, Videos, Youtube, Search, Chronus to latest versions
Updated installer logic for moving files to /data.
Fixed all mod installs now - REBOOT REQUIRED after first boot for DB changes to show up
Updated Skydragon kernel to latest version
Sense Camera - Using *actual* M8 APK, versus modded M7 Version. All changes done by me. 
Video recording now works in Sense Cam. 
Gallery images now show in lower-right. 
FX Should work now.
You can view recorded videos.
ZOE still crashes, gallery doesn't fully load.
Overhaul of installer - dialogues should now be formatted the same.
Modified SuperSU installer to match installer theme.
Updated mainver to correct value in firmware (not required to reflash if coming from the 05 or 05bugfix release, just aesthetic)
Updated SD logic, doesn't try copying to internal SD, as there's no point. 
Incorporated Lyapota's modpack changes to android.policy.jar.
Probably more...but again...it was a late night.

12.05.14_bugfix
Added Sense Camera. Zoe, slomo not working yet...WIP. Mileage may vary...but it's something.
We're up to FOUR different kernels. Elite by Buckmarble, BeyondStock by Captain_Throwback, Skydragon by HolyAngel, and plain ol' stock.
All mods in mod section are now working. Sexy, sexy SQL injecting. 
Fixed NFC. Duh.
Fixed G+ issues

12.05.14
Updated to offical OTA build (like we need it)
Updated system apps in brand-new ROM to latest version.
Updated ambient display sensitivity thresholds, brightness.
Removed wifi sensitivity mods so nobody can whine.
Likewise, used suggested GPS.conf for placational purposes.
Added MOAR tweaks from Lyapota's modpack.
NOTE:  Battery Percentage and longpress to kill app is not fully implemented yet, won't work.
Created separate tweaks section installer to hold it all.
Made "move Gapps to /data" optional.
Set preferred governor to interactive at kernel level.
Modified housekeeping script to fix errors. SQL injection method completely overhauled.
Updated installer to reflect correct version of project ERA.
Re-unified firmware, because we don't need two now.
SD Card access fixed.
Wallet works.
Exchange3Google updated.
Temp disabled AOSP browser till it's fixed.

12.03.14
New 5.0.1 base (No, really)
Update SuperSU to v 2.37
Update Era, Viper4A to latest versions
More, but I'm just too tired to think right now...

11.28.14
Added Advanced Power Menu with custom Material-themed icons
Busybox updated and installation method improved
SuperSU updated to latest version
Wifi thresholds lowered for more aggressive wifi/cell handoff
Custom performance tweaks, tuned for M8
Adblock HOSTS file made optional
Updated adblock HOSTS file
Added Lollipop File Manager as optional app
Installer now has automatic multicarrier detection
Updated installer graphics with material design icons
Cleaned installer progressbar timings
Unified multicarrier framework-res
Updated 5.0 firmware for Sprint users - fixes touchscreen in MultiROM
Fixed Viper4Android, updated version
Added Viper4Android sound profiles
Fixed ProjectEra's Dolby F/C
Custom default wallpaper

11.26.14:
Adjusted logic for firmware installer - should now pick between SD/external automatically
Added ProjectEra and Viper4Audo sound mods to installer
Updated "extra" apps to latest version
Added "cast screen" fix to init.d script

11.21.14:
Added script to detect presence of SD Card and extract firmware to correct location.
Added logic to make it boot into fastboot from installer...and it actually works!
Cleaned up graphics, colors in installer. Should be a lot more purdy now.

Added "remove BrowserProxyProvider" as an optional "app/mod". This *seems* to fix the lag with Chrome, and possibly facebook as well?
Left chrome in place when installing - will work out moving it to make uninstallable in future releases.
Added init.d script to delete firmware from SD after first boot. Houskeeping, yall!

Modified android-info.txt in firmware to reflect proper mainver value of 3.10.1700.5.
Standalone FW now same as what's in ROM. My bad!

Updated play services to latest version.

11.20.14
It's a celebration, bit#hes

11.18.14 (2)
Updated Google Play services to 6.5.  You may want to delete google play app data after flashing.

11.18.14
New Aroma theme.
Baked-in lagfix.
Option to copy CFW to SDCard.
Cleaned up installer, removed options.
"Extra" Gapps moved to /data, can be uninstalled.
Possible BT Streaming fix.

11.16.14
Fixed stuff.

11.15.14
Fixed SD Issues
Fixed Lag Issues
Added Writeprotect removal module
All quiet on the Western Front?

11.14.14
Updated to v 5.0
OP needs updating!

10.30.14
Updated Following Play Apps:
Slides
Games
plusOne
Drive
Sheets
Docs
Wallet
Play Services

10.29.14
Fixed SystemUI.apk to use correct buttons.
Added working Google Fit app.
Added HTC TV app.
Added modules, init.d script for CIFS support.
New GoogleEars.apk from play store - moved to data/app
Updated Herathon-based theme to v 3.1 version.

10.23.14 - 
Added a buttload of actual Lollipop apps:
Calendar
Gmail w. Exchange/outlook/yahoo integration
Play Music
Keyboard
Google Home
Google Search
Google Now
Talkback
Messenger (Think MMS.apk with material design)
Play Store
Camera

Additionally, the majority of other included apps feature material design, including:
Docs
Photos
Sheets
Slides
Videos
Games

It also has all of the fonts, sounds, wallpapers, and the boot animation from the latest preview. File's at 18% now, should appear in the link I posted with the screenshots in a bit. I need to sleep. :P

Also included latest Heads Up! apk, the herathon/material theme, and HK Theme Manager as an option in installer.

08.07.14 - 

Fixed issues with Lunar kernel causing bootloops in certain cases.

08.04.14 - 

Made "L" stuff more optional - framework-res for animations, systemUI for IC stuff, settings.apk for settings, and a new headsup app. You can pick each component to install.

All three MMS apps in the ROM are now fixed for size stuff. Because I'm replacing a core system app (Hangouts), there *MAY* be issues if you have an updated version of it installed as well. I got a bunch of google f/c's after dirty flash - rebooting seems to fix this.

Replaced the heads-up apk with a better one that's free, and works in all rotations.

Forced rotation is now an optional system mod in the installer.

SD camera is now an optional system mod in the installer. 

Hot reboot now works as expected, instead of making the phone bootloop.

The torch apk works as expected. As an additional happy accident, the flash mini-app in the dotview mod module for xposed now works.  

Re-added several of the init.d scripts for optimization (not the one that makes it optimize apps every time )

Added the proper ART fix.

Now with free cookies!

08.03.14 - 

Add MrJayDee's data drop fix.

Modify framework.jar to force all apps into auto-rotate.

Complete overhaul of VZW/carrier settings from Stock.

Android L features made optional again.

Updated to latest Luna kernel.

Luna kernel now has working CIFS!  (requires CIFSmanager, must mount share to mnt/cifs/foo)

Updated Kernel tuner to kernel tuner 2014.

Fixed wipe settings in installer to allow selection of wipe options.

Updated several system apps, including dotview and HTC TV.

Optional camera app modded to allow writing to SD_external.

More sprockets than ever!
COMMON ISSUES/FAQ:
Refer to post #2.
Kernel source:
Stock:
http://www.htcdev.com/devcenter/downloads
Elite GPE:
https://github.com/Buckmarble/Elite_Lunar_M8/tree/gpe50
BeyondStock:
https://github.com/CaptainThrowback/kernel_htc_m8gpe
Skydragon:
https://github.com/holyangel/M8-GPE_L
XDA:DevDB Information
GPE For HTC M8, ROM for the Verizon HTC One (M8)
Contributors
digitalhigh
,
Captain_Throwback
Source Code:
https://github.com/d8ahazard/GPE_5.0.1_MULTI_GIT_DH
ROM OS Version:
5.0.x Lollipop
ROM Kernel:
Linux 3.4.x
ROM Firmware Required:
4.4.4 Carrier-specific
Version Information
Status:
Stable
Current Stable Version:
1.0.0
Created
2014-11-30
Last Updated
2014-12-12
Last edited by digitalhigh; 21st January 2015 at
11:33 PM
.