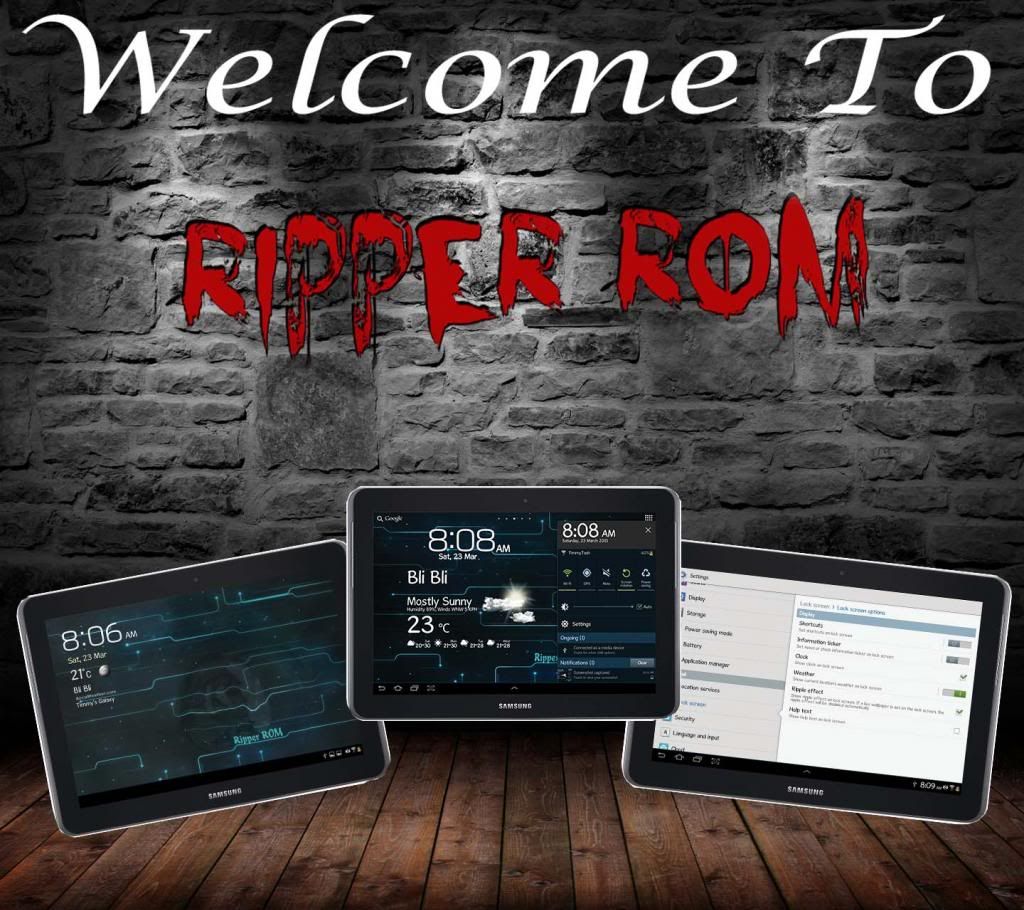 [ROM P511X][29 AUG][UEUCMH2-V6[JB 4.2.2] Ripper Rom
Ripper ROM V6 For P511X 29 August 2013
Ripper ROM V6 Download Here
MD5: 7a8ec216d130cb6200c03c4a8013db58
Ripper ROM V6 5100 Add On
Ripper ROM V6 3 Way Reboot Add On Test 2
4.2.2 UEUCMH2 base supplied by Shakatu
Stock Kernel
Enabled Ripple Lockscreen
Enabled Light Lockscreen
Added build.prop tweaks
Added Init.d tweaks
Removed some bloatware (just over 200mb of apps)
Added some csc features
Added Asus Day Scene
Added Asus Weather
Added Xposed Framework
Added Wanam Xposed (not all features work but some tested that do are add 4 way reboot, vol to skip tracks, circle battery plus some others)
[ROM P51XX][24 May][XXDMD1-V5][JB 4.1.2] Ripper Rom Smooth & Stable With Ripple Lock
Ripper ROM V5 For P51XX 24 May 2013
Ripper ROM V5
MD5 Sum: 0211d8a7bc3f4da526bc280004038874
XXDMD1 4.1.2 Base
Added AOSP Lockscreen & Toggle for it
Added Smart Rotation
Added Ink Effect Colour Chooser By mythtrandyr
Added Ink Effect Lockscreen (Please note wallpaper does not work properly for this at the moment and use ink colour chooser in app drawer to enable disable and select colour)
All other mods from previous version
That is all I can remember at the moment
Ripper ROM V4 For P51XX 18 May 2013
XXDMC3 4.1.2 Base
KK Kernel 0.6 OC Exfat Support
Black Settings
SystemUI touchups
Asus weather widget and day scene
Removed some more apks
Xposed framework and tweakbox (not all features work for this but I only use it for long press vol to skip tracks)
All mods from previous version
Ripper ROM V3 For P51XX 22 March 2013
ZSDMB2 4.1.2 Base
deodexed
zipaligned
root
busybox
kk kernel 0.5.5 OC ExFat Support Kernel
Ripple Lockscreen
Lockscreen Weather Widget
init.d support
init.d tweaks
build.prop tweaks
exit button browser
Pop Up Browser
shutter sound option
hacked email and exchange to remove security policies
removed software update in settings
added symbols to keyboard
4 way reboot
media scanner fix
disable scrolling cache
circle Battery % mod
scrolling wallpaper enabled
browser tabs increased to 200
Flash player
Latest Modem For 5100
other things may have forgotten
Ripper ROM V2 For P51XX 3 March 2013
UBDMA2 Base
deodexed
zipaligned
root
busybox
kk kernel 0.5.2 OC Kernel
Ripple Lockscreen
Lockscreen Weather Widget
init.d support
init.d tweaks
build.prop tweaks
exit button browser
Pop Up Browser
shutter sound option
hacked email and exchange to remove security policies
acid audio mod
removed software update in settings
added symbols to keyboard
4 way reboot
media scanner fix
disable scrolling cache
circle Battery % mod
scrolling wallpaper enabled
browser tabs increased to 200
Flash player
Latest Modem For 5100
other things may have forgotten
Rom is stock themed with minor adjustments to the SystemUI.
Screenshots attached below
Instructions
Download and Place Rom on SdCard
If have a 5110 Download V2 Addon and Place on SdCard as well
Boot into Custom Recovery (CWM or TWRP) (Recommend TWRP)
If coming from any non TW rom a full wipe is required
Flash Rom in Recovery
If Have a 5100 You Can Reboot Now If Have a 5110 Flash the V2 Addon in Recovery
Reboot
Notes
1.
If you have the multi coloured screen at boot then you will need to flash a stock 4.1.2 rom with PC odin and gain root access again to rectify that issue
2.
After first flashing the ROM let the phone settle for about 5 minutes while it sets up then should be ok
Credits and thanks to the following. If I have missed anyone then I am sorry please let me know.
Grgsiocl
Wanam
Chainfire
ketut.kumajaya
Acid Audio Team
Cristiano Matos
acquariusoft
talexop
arsaw
mythtrandyr
brolee93
pidio1
nader1450
Thanks to those who have donated towards Ripper Rom, it is really appreciated thank you.
Anyone else I have not mentioned
The usual flash at your own risk, always have a backup
Rom is no wipe but it is recommended to wipe if have some unknown issues
Last edited by txr33; 12th January 2014 at
08:34 PM
.