OP
Recognized Contributor / Recognized Developer
5,081 posts
Join Date:
Joined:
Apr 2012
Donate to Me
More
Proudly Presenting to you .....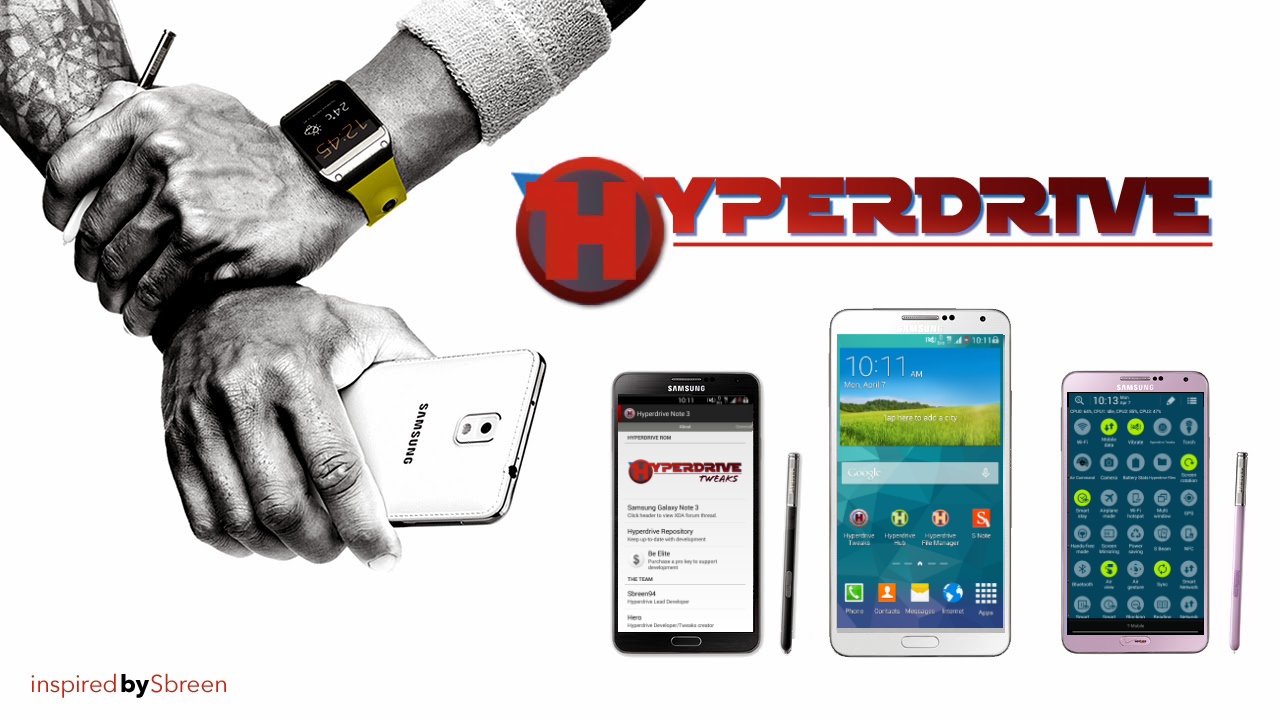 Touchwiz how I think it should be: The Latest Samsung S5 Software features as well as a fully customizable User Interface and System with excellent performance and battery life!!
Disclaimer:

This Rom is able to be installed on the Verizon Galaxy Note 3 On KitKat Bootloader with KK Safestrap
I am not responsible for anything that may happen or happens to your phone as a result of this custom firmware/Rom. You are choosing to install this yourself and thus assume any/all risks involved

N900TUVUBCNB4 Base Firmware fully working on Verizon
Android 4.4 w/ TW
Fully Custom Aroma Installer with loads of options
Rooted w/ latest su binary
Deodexed & Zipaligned
CSC- Fully modded
Knox Free

Hyperdrive Tweaks 2.0- Huge collection of Customizable Tweaks and options for your Phone(see below)
Hyperdrive HUB- download and customize your device with apps/ animations/wallpapers/keyboard skins/fonts/full themes/read FAQ/see helpful links from your phone
HyperdriveOTA- Receive automatic Over the Air Rom updates
Hyperdrive Wallpapers - Custom Wallpaper Picker with Added Functionality
Hyperdrive PIE- PIE Controls with added functionality built directly into rom
Hyperdrive File Manager- Enhanced File Browser
Hyperdrive Color Control- Customize your Phones Look On-The-Fly
Full Galaxy S5 User Interface (ported features below)
Choice of GS5 or GN3 Theme
Extended Power Menu
4 Way Multiwindow
30 Custom Notification Panel Quick Settings
-Hyperdrive Tweaks
-Torch
-Air Command
-Battery Stats
-Camera
-Hyperdrive Files
-All Others Unlocked
Unlocked Tethering Provisions
Busybox, nano, bash, cron, zram, sqlite3 support
Muted Boot Sounds
Optimized all apk and jar file and removed all debugging(.line) code
Patched services.jar to disable signature checks and launcher redraw
init.d support
data/app support
Custom Build.prop tweaks
Speed and Performance Tweaks
Battery Life enhancements
Much More

Galaxy S5 Features:

-The Following features from the Galaxy S5 ported for the Note 3 :cool:
Full Theme and UI in hub
Settings
Accuweather Widget
Launcher
Launcher Theme Chooser
Messaging
One Handed Operation
S-Health
Optical Reader
Kids Mode
Magnifier
My Files
S-Finder
S-Planner
S-Note
Headphone Shortcuts
Watch-On/Smart Remote
Calculator
Group Play
Video Player
Wallpapers, Sounds and fonts
Active Apps Widget
E-Mail
S Translator
Samsung Apps and Hub
Digital Clock Widgets
A Few other small goodies
More coming soon

In Tweaks App:

Sliding Menu
Ghost Mode (Hide app drawer icon)
Jump to Tab
Edit Displayed Tabs

About:

View Forum Thread
View Hyperdrive Rom Repository
View XDA Profile
Donate via Paypal
Follow on Twitter
Follow on Google+
Join on Facebook
General:

Touchwiz Launcher Wallpaper Scrolling on/off
Infinite scrolling on/off
Toggle between hiding apps from app drawer or disabling them
Choose Custom App for Homescreen Launcher swipe up
Choose Custom App for Homescreen Launcher swipe left
Enable or disable Home button double press on homescreen
Enable or disable Touchwiz launcher rotation
Touchwiz Launcher with Full Launcher icon Theme support (Menu-Set Theme)
Unlocked Samsung App Opps
Auto Call Recording for incoming calls
Auto Call Recording for outgoing calls
Increasing Ringtone with toggle on/off
Remove Recording info with toggle on/off
Choose End Call Delay Timeout Speed (None, 1000ms 2500ms 5000ms)
Ability to add All Apps in Pen Window
Ability to add All Apps in Multi Window
Power Menu Power Off Toggle
Power Menu Airplane Mode Toggle
Power Menu Mobile Data Toggle
Power Menu Torch Toggle
Power Menu Screenshot Toggle

Statusbar:

Display network traffic speed
ANY color for network traffic speed
Clock Options (Set Clock Position to Right, Center, Left or Hidden)
Am/Pm Style (Normal, Small or Hidden)
Weekday Options (Hide Weekday, Small Weekday, Regular Weekday)
Custom Notification Panel layout
Custom Notification Panel Dropdown Image
Battery Full Notification On/Off
Brightness Slider On/Off
Quick Launch Apps Panel On/Off
Enable/Disable Statusbar Lock Button
Enable/Disable Notification Panel CPU Load Widget
Enable/Disable IME Keyboard Switcher
Hide/Show Alarm Icon
Hide/Show NFC Icon
Hide/Show Smart Screen Icon
Hide/Show Bluetooth Icon
Hide/Show Sound Icons

Battery:

Custom Imaged Battery Icon
Choose from over 15 custom battery icons on the fly!
Battery Text Style (Regular %, Small %, No %, Hide Battery Text)
Auto Battery Text Color
Set ANY Color for Static battery color
Set ANY Color for Charging Text Color
Set ANY Color for Regular Text Color
Set ANY Color for Medium Battery level text Color
Set ANY Color for Low Level Battery text color
Show Hide in rom MIUI Battery Bar
Auto Color Battery Bar
Set ANY Color of Battery Bar
Animation of Battery Bar
Set Animation Pulse mode
Set General Animation Mode
Set ANY Color for Charging Battery Bar Color
Set ANY Color for Regular level Battery Bar Color
Set ANY Color for Medium Battery level Battery Bar Color
Set ANY Color for Low Level Battery Bar color

Colors:

Set ANY Color for Statusbar
Set ANY Color for Statusbar Clock
Set ANY Color for WiFi Icons
Set ANY Color for Signal Icons
Set ANY Color for Notification Icons
Set ANY Color for Notification Panel Color
Set ANY Color for Dropdown Clock
Set ANY Color for Dropdown Date
Set ANY Color for Settings Buttons
Set ANY Color for CPU Widget text
Set ANY Color for Ongoing Header Text Color
Set ANY Color For Power Menu Text
Set ANY Color for Power Menu Icons
Set ANY Color for Menu Button Text

HD Pie Controls:

Enable pie controls
Set pie activation location
Set pie activation gravity
Set pie activation width
Set Pie activation height
Change linked system app icon behavior
Change linked user app icon behavior
Change pie status info behavior
Change pie status info font
Disable pie when keyboard is present
Set pie status info clock color
Set pie status info notification color
Set pie color (presets)
Set pie tiles color
Set pie selection color
Set pie icon color
Set pie outline color
Set pie gradient color
Set pie gradient outline color

Lockscreen:

Stock Samsung Lockscreen Settings
Enable/Disable Ripple Effect
Improved Ink Effect
Set ANY Color for Ink Effect
Add ANY Widget to Lockscreen
Increased Max Widget added limit
Enable Music Control(Volume Rocker Skip with Customizable Options) *Not Yet Currently Functioning
Set button timeout
Set volume up option
Set volume down option

Misc:

SPen Keyboard Switcher
Package Download
Switch Wifi Band
GPS Fix
Battery Stats
Usage Stats
Wifi Settings
Additional app Functionalities

Xposed:

Install Framework
Manager Modules
PerAppDPI Settings
Gravitybox

Memory:

Foreground apps
Visible apps
Secondary server
Hidden apps
Content providers
Empty apps
Choose preset memory values

Tools:

Force init.d support
Edit Shell Command
Zipalign
Wipe Cache/dalvik cache
Fix permissions
Optimize databases
Reboot
Reboot Recovery
Reboot Bootloader
HotBoot

Package Manger:

Custom Package Installer
Search device for APK and ZIP file
Enable Data Persistance
Persist LCD Density
Persist Host File

CPU Settings:

CPU Info
Time In State
Set Max Clock speed
Set Min Clock speed
Set Governor
Set Scheduler

Additional Features:

Hyperdrive Boot and Shutdown Animation
Removed low battery warnings
Removed warning from data toggle
Unlocked Fonts- Over 500 fonts in rom to choose from
Removed Cancel from Power Menu
Disabled Scrolling Cache in Framework
Device Status Reads as Official
Custom Auto Brightness Levels
4 Way Rotation
Animations faster by default
Smooth Spinners
Spell Check Mod enabled
Unknown Sources enabled by default
Join Unlimited Contacts
Unlimited Contact Name Length
Unlimited tabs in Browser
Unlocked additional Browser features
Unknown sources enabled by default
TW Launcher Hacked for Speed and up to 9 homescreens
Camera Shutter Sound on/off menu
Use Camera while on a call
Use Camera with Low Battery
Removed
-All Howto videos and help hub
-System Updates from Settings
-Samsung OTA updaters
-All Verizon Bloat
-Boot and Shutdown Sounds





Thanks to the following People for help with codes, files, etc:

dwitherell
jeboo
Goldie
Didact74
loserskater
CNexus
gharrington
evil1art
rompnit
mythrandyr
lidroid
JBoss for a ton of Testing and help
Samsung for being the best
Anyone else i missed, please pm me!

XDA:DevDB Information
Hyperdrive Rom - Galaxy Note 3, ROM for the Verizon Samsung Galaxy Note 3
Contributors
sbreen94
,
Hero
ROM OS Version:
4.4.x KitKat
ROM Kernel:
Linux 3.4.x
ROM Firmware Required:
Rooted with Recovery Installed
Based On:
Stock Samsung 4.4 Firmware
Version Information
Status:
Stable
Current Stable Version:
RLS8
Stable Release Date:
2014-05-11
Created
2013-11-10
Last Updated
2014-05-11
Last edited by sbreen94; 3rd March 2014 at
07:36 AM
.