G3 TweaksBox
DOWNLOAD 2.0 RC FOR MARSHMALLOW
HERE
DOWNLOAD 1.5.1 BETA1 FOR LOLLIPOP
HERE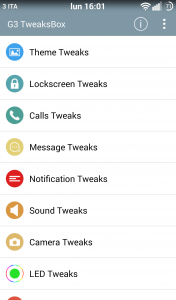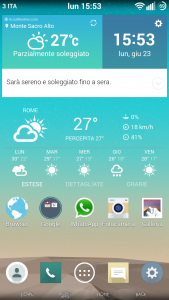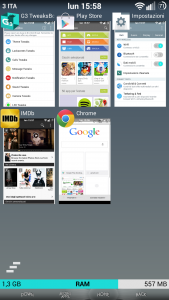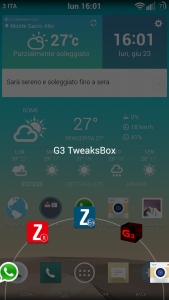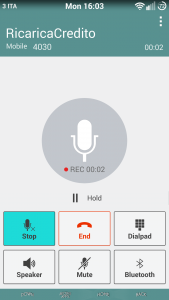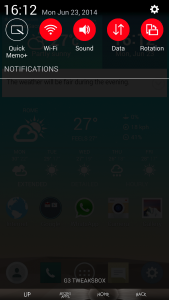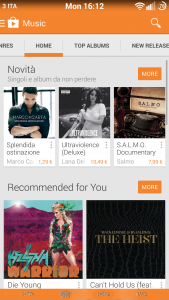 [/CENTER]
Current Features:
Tinted Bars MOD
Tint status bar according to the action bar
Status bar shadow on apps
Link status and navigation bar color
Status Bar Tweaks
Status Bar color
Hide status bar shadow on home
Battery tweaks(color,size,hide)
Circle Battery(with custom style,color,animations)
Status bar icon colors
Hide status bar icons
Change status bars' icon set
Clock tweaks(position,color,style,html,hide)
Carrier tweaks(visibility,color,custom text,custom size)
Brightness changing with sliding the status bar
Navigation Bar Tweaks
Navigation Bar color
Hide navigation bar shadow on home
Button colors
Button glow color
Navigation bar size
Button scaling
Button long pressing actions(with many actions and custom timeout)
Up to 7 buttons in the navigation bar
Replace QMemo with Search button
Ring Pad Tweaks
Up to 5 custom apps
Disable ringpad option
Notification Panel Tweaks
Custom background for each element
Custom color for each element
Options to hide elements
Custom app on clock button pressing
Custom carrier text
Quicksettings Panel Tweaks
Custom background
Custom toggle color
Hide label buttons
Add brightness tile
Recent Apps Window Tweaks
Blur Effect
Hide buttons
Add Clear button(AOSP style with a long pressing option)
Add Ram Bar(with custom colors)
Other UI Tweaks
Complete notification row customization
Complete volume panel customization
List overscroll edge/glow colors
Calls tweaks
Call Recording
Auto Call Recording
Bigger caller picture
Set Call History as Default Tab
Enable Noise Suppression
Disable in-call floating timer
Messages tweaks
Exclude contacts without phone numbers in messaging app option
New Message screen off option
Increase recipient limit to 100
Enhance zoom range
Add sent time stamp to msg details
Custom theme color
Lockscreen tweaks
Enable QuickUnlock
Enable all weather effects
Enable Rotation
Disable carrier text and icon
Use squared icons
Hide alarm info
Hide charging info
Hide pattern string
Hide swype string
Hide Knock code string and brackets
Hide statusbar clock
Show Remaiming Attemps
Enable Easy UI
Notification tweaks
Hide input switcher notification
Disable charging plug/unplug notifications
Hide full battery notification
Hide AC charging notification
Hide slow charging notification
Hide wireless charging notification
Hide Quietmode schedule notification
Hide Battery saver notification
Hide Low Battery Dialog
Hide Airplane Mode Dialog
Disable Data roaming notification and popup
Disable voice mail notifications
Disable voice roaming notification
Camera Tweaks
Disable Shutter Sound
Disable Video Recording Sounds
Disable Camera Sound
Disable Focus Sounds
Disable low battery check
Sound tweaks
Disable Safety HeadSet Volume
Auto Expand Volume Panel
Skip Tracks with volume Keys
More Volume Steps
Disable Volume adjust sounds
Link Ringtone and notification volume
LED Tweaks
Change default led color for missed call
Change default led color for incoming call
Change default led color for missed messages
Launcher Tweaks
Hide icon labels from the homescreen
8 Hotseat items
Custom Grid on homescreen
Hide Tabs on App Drawer
Hide icon labels from the App Drawer
Custom Grid Size on App Drawer
Hide Clock On Launcher
Enable LG Launcher Hidden Settings
Misc tweaks
Enable All Rotations
Freeze rotation to the current one(disable forced rotation to potrait when you disable auto rotation)
Disable Navigation Bar
More items in powermenu
Disable the power menu when device is locked
Volume button actions while LCD is idle.
Show Extended Kernel Info
Disable Overflow menu button
Disalbe full-screen keyboard in landscape mode
Enable Knock OFF on Navigation Bar
Code:
How To INSTALL:
1)Download and install Xposed Framework
2)Download and install the apk
3)Open G3 TweaksBox and apply mods you like.
4)Reboot
5)Done
CHANGELOG:
Code:
1.3 BETA2:
   Theme engine updated(all info in the developing thread)
   Fixed a bug related to the option to collapse notifications
   Now exchange bypass should work also for the phone encryption.
   Optimized and fixed a bunch of things.
1.3 BETA1:
   Theme engine updated
   Added an option to take out Recents from the navigation bar.
   Added: Now the button to record calls won't replace the add call/merge calls button.
   Added an option to make all notifications collapsed as default
   Added an option to set blur transparency for Recent Apps Bg
   Added an option to hide the status bar shadow on lockscreen
   Added XCam by @xdabbeb to the volume button launching options 
   Fixed the FC you could experience when pulling down the notification on the condition the background could not be blurred.
   Fixed the FC T-Mobile experienced when enabling the QuickSettings MOD 
   Fixed: The option to change the "Clear-All" button was not working in some conditions
   Fixed: All notification panel lags should be hopefully solved now.
   Fixed: Option to add brightness slider was disabled for Sprint Users by accident in 1.2 
1.2 RC:
    Fixed : Now the option to adjust blur transparency works
    Added : Now Telegram and Twitter will be handled by Tinted BARs MOD
    Fixed : Google NOW Cards are now correctly blurred
    Fixed : The option to disable wireless charging notification should work now.
    Added 7x5 to home grid sizes
    Update translations
1.2 BETA1:
    Added Themes Support(Experimental)
    Added: Now if you launch the device in Safe Mode G3 TWB will be disabled.
    Fixed a bug with QSlide button
    Fixed: Navigation bar didn't use the custom color when Tinted Bar MOD and Link Bar option was enabled.
    Added an option to change the theme color of the Message App
    Fixed : Hot Boot is now working
    Added an option to enable all weather effects on lockscreen
    Added: Now the option to enable the brightness toggle works also for VWZ users
    Added an option to disable in-call floating timer
    Added an hidden option to disable the gradient on light backgrounds
    Added an option to MOD the complete action dialog:
    ---------Removed the hint message
    ---------Removed the OK button
    ---------Launch an app with a single click
    Blur Effect optmized:
   ----------Even faster
   ----------Added an option to adjust blur transparency
   ----------Added an option to enable fade in/out animation
1.1 RC2:
BugFixing
1.1 RC1:
 Added Hungarian,Russian,Spanish,Chinese languages
 Updated other languages
 Fixed: Now icons won't overlap when the clock is centered
 Changed: Now even if you don't enable the gradient over tint it will be showed when the background is light
 Added an option to set the action on long pressing of QSlide button
 Fixed issues with VWZ variant
 Reworked and optimized a bounch of things
1.1 BETA1:
 Added an option to blur the background of the Recent Apps Window
 Added an option to make the caller picture bigger
 Added an option to set the navigation bar button color in the HOMESCREEN
 Added: Now the option to hide the data icon when wifi is connected works also for spanish users.
 Added QuickMemo and Camera to volume key actions
 Fixed: Now you can launch the phone app with a long pressing on Volume Keys
 ReWorked : Blur Rendering code has been totally rewritten. It's 15-20 times faster now.
 Added an option to bypass exchange security requirements 
 Added an option to enable brightness slider on ATT variant
 Minor bugfixing
1.0 RC2: THIS BETA WILL EXPIRE ON July 1
Now the blurring process on notification panel is synced
Fixed: Now the data roaming alert won't pop up at every boot.
Added Italian and French translation.
1.0 RC: THIS BETA WILL EXPIRE ON July 1
Fixed FC on sprint devices when changing status bar icon set
Added blur notification panel option
Other minor bug fixing
1.0 BETA2: THIS BETA WILL EXPIRE ON July 1
Fixed bug with the custom grid on the app drawer
Fixed unworking incoming led color option
Added: Now you can move the clock on the left
Added "Restore Menu button" option
The code for hiding sliders has been reworked
Theme tweaks icon reworked
Fixed other minor bugs 
1.0 BETA1: 
Initial Release . THIS BETA WILL EXPIRE ON June 27
CREDITS:
Rovo89 for his hard work
C3C076 of gravitybox for: some snippets for brightness status sliding, ticker animations hooks,the method to retrive the cm battery height , the runnable to get ram info
Someone(i could not understand who is the original coder) for the sendmediabuttonevent function
Sven Dawitz of CM for circle battery class
Aydee for the application icon

Last edited by P_Toti; 14th April 2016 at
02:00 PM
.