Senior Member
Thanks Meter
3
Posts: 229
Join Date: Feb 2007
Location: Bratislava/Slovakia
DONATE TO ME
and what about innesoft adress book?
http://www.inesoft.com/eng/index.php?in=addressbook.htm
I using this program about half year, it work like a charm, it work perfectly for me, this is,. how it look, when I press contact button -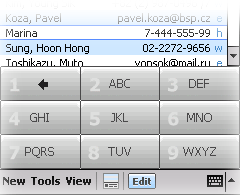 you can also use today plugin, but for me is not good, coz you need pen to dial nubmer, with this big keyboard I can easily dial number with my finger. try it, it is free for some days.
EVO3D GSM 5+2 S-OFF DisarmedToaster-0.2.9-67
Nokia Lumia 800 7.8/1750.0823.5585.12460
used to have -
Wildfire S S-on root CWM CM9 RC2 CRYPTOMILK ALPHA7
HD2 512 tryied almost anything, win mango, droid, ubuntu, BEST phone sofar
HTC Touch Elfin/Touch ESSentiaL HardSPL/0 MB PP
Nokia N95-2 8GB v 31.0.015 HACKED/Unbranded
HTC Universal 128/64 WM6.1 v1.4.5 WWE/luca16thebig
HTC TyTN HERM300
HP iPAQ - HX4700 WM6 kozhura
HP iPAQ - HX2790b WM6.1 my ROM bsd on Yurrix kitchen