Use all apllications in landscape mode
---
I don't know if it was posted, but you can use
Gsen
to use (or not) all application in landscape mode.
it was tested on a the blacktosne
Quote:
The program auto-rotate screen on HTC Touch Diamond/O2 Xda Diamond/T-Mobile MDA Compact IV/HTC Touch HD devices (with original ROM).
You can select which programs need exclude. Or possible to setup for which programs ONLY need rotate screen. Also possible switch screen off if you put device with screen on bottom.
Quote:
Allows to pass from the portrait mode to the landscape mode simply by rocking your diamond (also works with HD). You can choose to use this program with certain applications or to block some applications.
This software also makes it possible to extinguish the screen of Diamond when this one is turned over (face downwards).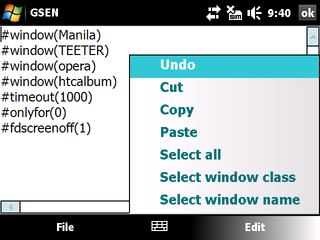 Source :
S-K-tools.com
Thanks to Zincou
Samsung GT-I9505 rooted
MDN included
Samsung Galaxy SII
r
ted with extended 2000mAh battery
Android : cm-10.1
Asus Transformer TF300T - stock