Hello,
I made new free app for unlock Galaxy S and his variants.
Galaxy S Unlock
This app need:
Root + Busybox + Active internet connection.
Not work on Docomo, Docomo have nv_data rev 0.400, International Galaxy S have rev 0.800 and rev 1.500
Tested and worked for Galaxy S sold with android 2.1 (for vibrant and captivate this method is the same of this:
http://forum.xda-developers.com/show...&postcount=103
compiled in apk)
Tested and worked on Galaxy S sold with android 2.2 in france all new GS sold with android 2.2 must use step 2 for 2.2.
Link to first test:
http://forum.frandroid.com/topic/389...erche-testeur/
Link to download:
http://perso.numericable.fr/helroz/P...y_S_Unlock.zip
or
For security, save your /efs folder
Step 1 save your /efs folder
Step 2 Unlock your phone in 60 seconds, black screen is normal(get the good step2 for phones sold on 2.1 or 2.2)
Step 3 Built .nv_data.bak (after restart)
And last choice restore /efs folder saved on step 1 if you have any problem.
This is not a final version,
test at your risk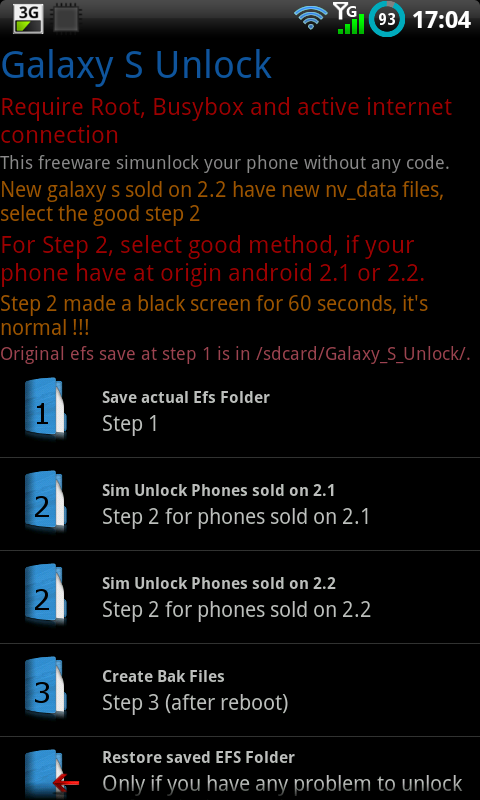 Edit 07/02/20011:
Unlock method is changed by only "change lock-bytes" because minority phones have random signal problem and several users delete the backup of efs folder and send me a message for help after
Please send a message for inform me if this method work good for phones sold on 2.2
Last edited by helroz; 7th February 2011 at
12:21 PM
.