ClockQ - digital clock widget

by Jakub Kinst
App Info
Hi, this is my first android widget. It is simple clock widget, but it features with many visual capabilities. Updates will come in near future.
PLEASE FEEL FREE TO WRITE ANY FEEDBACK, TIPS AND WISHES FOR FUTURE VERSIONS.
Thank you.
NOW AVAILABLE ON ANDROID MARKET
https://market.android.com/details?i...t.jakub.clockq
Features:
- Choose between 13 fonts
- 4x2 and 2x1 widgets
- Custom color
- Transparency option
- Rotation option
- Scale option
- Shadow effect
- Show date function
- 24h/12h option
- Tap to open custom application
Summary
Current version:
1.0
Minimal version of Android:
1.6
Languages:
English, Russian, Czech
Permissions:
none
Size:
370kB
Author:
Jakub Kinst (jakub.kinst.cz)
Price:
FREE
App Homepage
https://market.android.com/details?i...t.jakub.clockq
Versions
(NEW) 1.4.2011 - 1.0.1
- added to the Android Market
- 24/12 default set by system
- donate button added
- new version info
- minor bugfixes
11.3.2011 - 1.0
- added 6 new fonts
- added 4x2 large widget
- preview in settings is now fixed to the top of the screen
- clock, date and am/pm can now have different colors
- added scaling option (if you rotate your clock, you can scale it down)
- fixed the bug with updating preview
- minor bugfixes
6.3.2011 - 0.9.5 beta
- added clock preview in settings
- added rotation feature
- New languages (Russian,Czech)
- Date format options
- Landscape/Portrait switch bug fixed
- minor bugfixes
1.3.2011 - 0.9 beta
- added Honeycomb font
- added color picker (see Screenshots)
- Apps are now ordered alphabethically
- AM/PM time format bug fixed
- minor bugfixes
26.2.2011 - 0.8 beta
- first public release
Donate
If you like this app, please donate. Thanks...
Download
MARKET
QR Code:
Video and Screenshots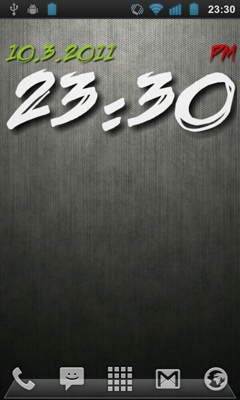 Last edited by jerryex; 2nd April 2011 at
09:18 PM
.