Outside of Philadelphia
5,751 posts
Join Date:
Joined:
Nov 2008
More
Welcome to Bareback for the HTC One M8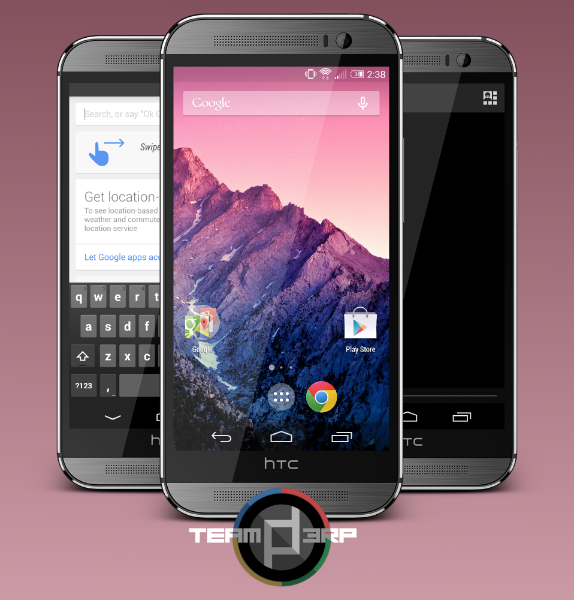 What is this?
This is a Highly stripped down sense rom, designed to give the best of both worlds, a fully featured stock rom, but stripped of a lot of the HTC bloat that comes with it.
a short video tour of the rom
ROM Features
-2.16.654.4 HK base
- rooted
- busybox
- Insecure boot with init.d
- heavy debloat ( rom sits around 760mbs)
- prism, and blinkfeed social items removed (blinkfeed launcher can be installed from the play store but facebook and stuff won't work because the plugins are removed)
- moved a lot of the google apps to the /data partition
- added Launcher3 (from paranoid android 4.44)
- removed htc weather and replaced it with Genie Widget from Nexus 5
- removed world clock and replaced it with Deskclock from Nexus 5
- themed the systemUI a bit to give it a more AOSP vibe
- converted most of the audio files to mp3 to save a bunch of space
- removed most of the wallpapers
- added the stock GEL kitkat wallpaper (purpleish moutain one)
- APM no kid mode (thanks nfinitefx45)
- generic status bar icon with a bunch of stuff hidden
RLS 2
- further debloat (removed sense weather animations since the clock is gone)
- added the default notfication sounds back as flac so that sounds work right out of the box
- got rid of the google plus plugin that was causing the sense pack error from before
- removed sense calculator added in the stock android calculator
- added a 4th wallpaper that enables the 4th theme to be used (the darker one)
- updated a couple of the stock apps (adds space but, it's space that would have been used anyway)
- changed out email client, with google's email
- changed calendar with google calendar
- probably more
RLS 2.1
- Added all new wallpapers (made by me )
- Launcher3 now shows the proper sense apps on the homescreen (eg the messages, phone, and camera)
- updated some apps in /data (that was a little bit ago though)
- Fixed calendar sync (missing apk)
- probably not more
Future/todo
- a little more themeing
- change some app icons with their holo counterparts
Download RLS2.1
Download RLS2
Download RLS1
YOU MUST BE ON LATEST FIRMWARE WITH UPDATED HBOOT OR YOU WILL HAVE WEIRD BOOT ISSUES ALSO S-OFF IS PREFERRED THIS IS YOUR ONLY WARNING
Latest Firmware Downloads
Bugs:
- Wifi calling in the app drawer gives a permissions error use it from the settings menu if you want to use it, i might look into a fix, but it's not really an issue for me)
Adding Some Sense apps back:
- Good News is HTC has been putting a lot of the HTC apps on the play store and you can install them again on this
- HTC service pack will be required, this is also available in the market install that then the apps of your choice
Q&A
Q: Will you post the apps you removed?
A: probably the social app plug ins i'll have a zip for, but as far as everything i pulled nope no plans
Q: Will you add this feature?
A: Nope this was something i did in my spare time
Q: I bricked my phone or didn't follow your instructions will you help
A: I'll give it a shot, but it will be on my time scale, and i'll probably make you feel bad for asking
Q: if i Threaten to go back to another rom will you listen to my requests?
A: Nope it will actually make me want to help you less
XDA:DevDB Information
Bareback, ROM for the Sprint HTC One (M8)
Contributors
thoughtlesskyle
ROM OS Version:
4.4.x KitKat
Based On:
Sense 6
Version Information
Status:
Testing
Current Beta Version:
RLS1
Beta Release Date:
2014-07-28
Created
2014-07-28
Last Updated
2014-09-22
Last edited by thoughtlesskyle; 23rd September 2014 at
03:02 PM
.