Clone App
Clone and run multiple accounts of the same app simultaneously, Clone WhatsApp,support dual app. The most important is it is Free & NO ADS!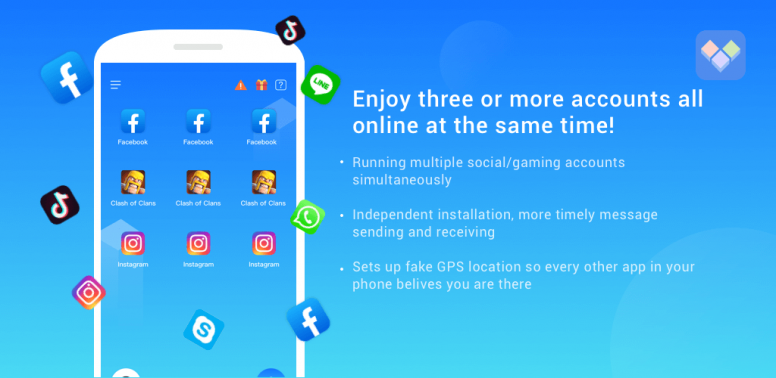 Download now
Google drive
Hello people! I hope you are all doing okay
About our App:
The clone app is designed to allow you to log into multiple accounts on a mobile phone at the same time. You can create clones of your applications that run in parallel space and work independently of each other.
MainFeatures:
*Log in to multiple accounts of social networking apps or game apps at the same time on one device
• Balance between users' life and work easily.
• Double users' online gaming experience and have more fun.
• Almost all apps are supported for a second account in Clone App. Data from both accounts won't interfere with each other.
*Support for 32-bit apps
32-bit engine with independent core technology, perfect support for 32-bit apps.
*Support for 64-bit apps
64-bit engine with independent core technology, perfect support for 64-bit apps.
*No ads and free completely
Clone app has no ads, and is completely free, providing users with quality service.
*Top game multi-account
Support popular games, easily switch multiple accounts.
*Balance work and life
Support for popular apps, to provide them with stable multi-account services.
*fake gps location
You don't need to root your phone to use the fake gps location plugin. You can set up any location you want to appear in, and you can make the other party believe you are there without moving to the corresponding location.
*independently
According to your own needs, you can install the clone application into the internal space of the app or install it into the phone independently like a normal app.
* cahos engine
Self-developed cahos engine, security, stability and high performance, achieved the clone without root mobile phone in the case of the use of virtual location plug-in.
Tips:
★ your personal information will not be collected to protect your privacy.
★ permissions, the requested permissions are required to ensure the normal operation of the cloned application.
★ please do not delete the clone app main program, otherwise the clone will not run normally.
If you like our application, please give us five-star praise, your encouragement is our greatest motivation!
If you have any questions or suggestions, welcome to click【Feedback】 within the application , or send an e-mail to contact us, we will be honored to help you!
Email address:
[email protected]
Download now
Google drive
social media
Twitter
Facebook
Version Information
status:stable
current stable Version:1.0.3
Updated
ec 03, 2020
V1.0.3- 12/03/2020 update
* UI optimization and adjustment
*fix bug
* Some apps that can be cloned,for example:freefire
* Add language:Chinese Traditional;Indonesian;Korean
* user activity
* Add direction for use
If you have any questions or suggestions, Please leave a message below:cowboy:
Last edited: