Please remember to add a category to the bottom of each page that you create.
See categories help for further details, but most will probably be [[Category:HTC ModelName]].
Xanadux
From XDA-Developers
You've come to the site of Xanadux, a project to port Linux to the HTC phones.
An overview will be given here on Handhelds.org
The technical information about these phones is provided here:
Excalibur (not ready yet! -- please help)
Hermes (S3C2442, the kernel boots, apparently the keyboard works)
Himalaya (PXA263, gpe works)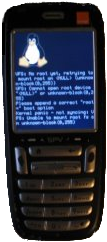 Universal (PXA270, gpe/opie works, phone works in Qtopia)
This project has (or should have) a lot in common with OpenEZX.
PS:(SMALL NOTICE) Dear developers since you are working on linux, i thought this would be the best place to post this link see here if you can get the scripts, this one is a working linux base for Phones and its called OPENMOKO
Project(Xanadux)goal is to produce a working and usable Linux on the device. This includes getting a working base system, making sure all the features of the device (such as the phone, GPRS and UMTS) can be used, and creating a distribution of sorts that non rocket-scientists can actually install and use.
This is where we coordinate work and show the results. The HTC phones are much more closed to developers than any other PDA platform that currently runs Linux, and many challenges lie ahead. We choose to port the Linux kernel and do the other things, not because they are easy, but because they are hard, because that goal will serve to organize and measure the best of our energies and skills, because that challenge is one that we are willing to accept, one we are unwilling to postpone, and one which we intend to win. (*)
If you have coding skills, some time on your hands, and if you've ever considered joining a cool Open Source project, then here's your chance.
If you want to join development please contact: [email protected]
For download and installation instructions, see XanaduxUserHome
Developers please go to the XanaduxDeveloperHome
Read what others are saying in XanaduxPress

Other languages:
eine deutsche Übersetzung gibt es hier: XanaduxDe

By the way:
RecentChanges will describe the historical changes of this site(s) (-it will show the current process of the project).
---
(*) If you think that sounds pathetic, go talk to JFK's speech-writers. They did get to the moon though...